Profile in Callers and Cuers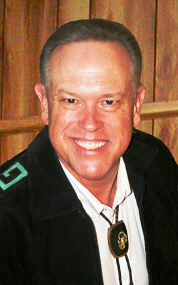 Jerry Lee Story was born June 21, 1955, to Kenneth and Marian (Hammond) Story in Keokuk, IA. He married Kristine Sue Laux on July 25, 1976 in Fairfield, Iowa. Jerry graduated from Fairfield High School Class of 1973.
Jerry began calling in 1969 at the age of fourteen in Fairfield, IA. During the early 1970s he taught many classes and traveled throughout the Tri-State area of Iowa, Illinois, and Missouri. He found himself touring full time calling dances and festivals coast to coast and in a dozen different countries.
He traveled to Saudi Arabia ten consecutive years calling for many Western companies. One Swedish Telephone company known as Phillip Ericcson took the teaching tapes produced during these tours and distributed them throughout Europe. Many young Swedish callers learned to call from Jerry's tapes. He has been co-owner of Royal Records since 1985 and has served as a Board of Governors' member in CALLERLAB and was dedicated to the preservation of Modern Western Square Dancing.
At the age of 65, Jerry passed away Saturday, December 19, 2020, at the University of Iowa Hospital and Clinic. He was an International Square Dance caller and local business owner. Jerry enjoyed shooting pool and going to the gun range. He was a Green Bay Packers fan and enjoyed watching FOX news. Jerry used his love of music to honor the Lord by making a Gospel CD "Wings of a Dove". Jerry was known for his sense of humor and his story telling. What he loved most was spending time with his kids and grandkids.
He will be missed by his wife, Kristy of Fairfield; his two sons, Joshua (Esther) Story of Navarre, FL and Jacob (Som) Story of Fairfield; his grandsons, Seth, Luke, and Nathan Story; his two sisters, Jeanie Ludeking of Knoxville, TN and Jane (John) Kurt of Minnesota; and numerous nieces and nephews. Jerry was preceded in death by his parents, Kenneth and Marian.