Profile in Callers and Cuers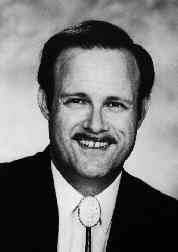 In 1969 at the age of 15, his brother and sister in-law introduced Pat to square dancing in Houston, TX (which is where he was born and lived most of his life). It was the typical initial reaction that most people (especially males) have to square dancing when first invited to watch. Pat was so emphatic that he would not be interested, that his brother had to bribe him financially to come and try it. Once Pat took the floor of the local teen club (Texas Twirlers) and heard the music, he knew he was hooked. The following year (1970) he started calling lessons under the tutelage of Red Donaghee and Jim Hale. This is also when Pat would meet (what would turn out to be his lifelong best friend) Bob Baier. Square dancing soon consumed Pat's life. The majority of his spare time when not in school or working was spent either dancing or calling square dances. In 1975 at a festival he was calling in Carmine, TX (The Bloomed Out Bluebonnet Festival), he would meet and fall in love with his future wife Kim. They married in 1980 at which time Pat decided that it was time for him to take the leap and become a full time square dance caller. He had multiple workshop clubs called the Barbour Shoppers all over Texas. At the peak of the square dance boom (early 1980s), Pat had over 800 couples statewide in the Barbour Shoppers and he would make weekly trips to Lubbock, Midland, Hobbs NM, Big Spring and Ft. Worth. He was also traveling across the US and other countries calling at resorts and Square Dance Festivals. Pat has called in most all the 50 United States as well as Canada, Sweden and Japan. In 1985 Pat's life would take another turn when his first son Patrick, Jr. was born. It was time for him to make a decision about remaining a full time caller or returning to the workforce and helping raise his family. He chose the latter. His family grew again in 1990 with the arrival of his son Austin.
Pat has recorded over 100 Square Dance Singing and Patter calls. He was the first caller to join Wade Driver on Rhythm Records and in 1988 with the encouragement of his good friend Mac O'Jima from Sendai Japan, he started Elite Records. Pat has had the great fortune of forging a lifelong friendship with the Japanese Square dancers and has made over 25 trips to Japan to do festivals since 1983. He has also enjoyed many square dance vacations with Mac & Meg O'Jima and the Japanese square dancers. Pat's final dance in December 2012 will be in Japan celebrating his retirement and the 50th anniversary of Mac O'Jima's calling career.
Pat has been blessed over the years with many great friends in the square dance world and feels incredibly fortunate to have been introduced to this fabulous past time over 42 years ago. While he and Kim plan to retire from calling, they still plan to dance and enjoy the activity that has meant so much to them over all these years.