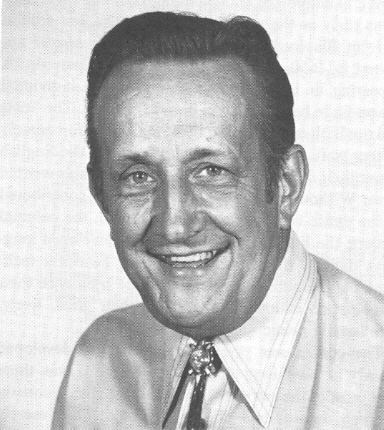 Don Armstrong began actively calling and teaching dance (New England squares, contras, quadrilles, folk, and old-time rounds) in 1947 in Florida. In 1951, Don was calling a very large and extremely successful weekly dance in the Gulfport Casino, just outside St. Petersburg, Florida. His band, known all over Florida, did square dance parties for many conventions. The Florida Tourist Board saw the possibilities in this activity and sent Don on a 13,000-mile calling tour across the South, Southwest, and into California to help entice visitors to Florida, making him among the very first group of traveling callers. Along the way, he did free dances at such places as the Grand Canyon, Carlsbad Caverns, and Mammoth Cave. Don was doing a weekly radio show on a Florida station using interviews and lots of live sounds along the tour, and he swung down to Colorado Springs, Colorado, to interview Dr. Lloyd "Pappy" Shaw and his wife, Dorothy, for one of the programs.
Later Don, and his wife Marie, moved to Cañon City, Colorado. After Dr. Shaw's death, Don helped found the Lloyd Shaw Foundation, and was a member of its Board of Directors and Executive Committee. The Foundation produces recordings that include folk dances, contras, square dances, round dances, circle dances, mixers, and novelty dances.
Don contributed articles to such nationally recognized dance or recreation publications as Square Dancing, the publication of the American Square Dance Society, and he wrote The Caller/Teacher Manual for Contras, published by the Lloyd Shaw Foundation. Don was a member of the Square Dance Hall of Fame and was one of the founding members of Callerlab of the International Association of Square Dance Callers.
Don also ran the Contra Dance Holiday on Thanksgiving weekends in Skippack, Pennsylvania.
Among Don's publications are
Caller/Teacher Manual for Contras, The. Sets In Order American Square Dance Society, Los Angeles, California, 1973.
Contra Dancing. Lloyd Shaw Foundation Sales Division, PO Box 11, Macks Creek, MO, 65786. More than 100 contra dances along with pictures, diagrams, and descriptions.
Don Armstrong's Square Dance Workbook. 1955.
Don Armstrong's Reel to Reel Part 1. (Video) Kentucky Dance and Lloyd Shaw Foundation.
Don Armstrong's Reel to Reel Part 2. (Video) Kentucky Dance and Lloyd Shaw Foundation.
Don Armstrong's Reel to Reel Part 3. (Video) Kentucky Dance and Lloyd Shaw Foundation.
Dances Don taught include Back to Donegal, Balance in the Barn, Balancing Billy, Bonnets of Bonnie Dundee, Broken Sixpence, Caller's Wife, Callison Hall Jig, Calvin Crest, Caman Island Contra, Caribbean Contra, Constant Contra, Crazy Daisy Mixer, Doubtful Shepherd, Dream Lake, Duke of Kent's Waltz Contra, Dumbarton Drums, Flea Market, Hills of Habersham, Homosassa Hornpipe, I Get the Blues, Inflation Reel, January Seventh Jig, Kadie's Kontra, Kansas City Reel, Kitty Hawk Hornpipe, Levi Jackson Rag, Long Valley, Market Lass, Mazurka, Minuet, My Will is Easy to Decide for There is Nothing to Decide, Needham Special, Olympic Promenade, Ottawa Special (British Sorrow), Oyster Shucker's Jig, Queen Victoria, Raccoon Ramble, Riley's Reel, Roundelay Contra, Sackett's Harbor, Shadrack's Delight, Slaunch to Donegal, Spanking Jack, Spitfire Swing, Steamboat Quickstep, Swiss Quadrille Medley, Ten Pretty Girls, Terry Lynn's Jig, Teton Mountain Stomp, Tip Top Quadrille, Tipperary, Today, Topsy Turvy, Trail of the Lonesome Pine, Travel Air Triple, Waltz for Terry, Weaver's Reel, Whisper Ring, and Yucca Jig.