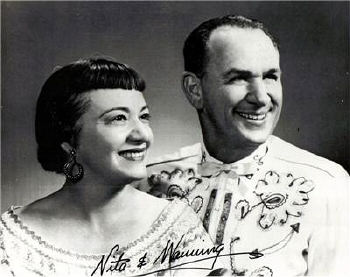 The Smith's love of dancing led them into a career as recreational dance leaders and their travels took them all over the United States and Europe for 35 years. She also was the force behind "Fashions by Nita Smith," a manufacturing business for bouffant petticoats and custom made dancing apparel. Among square and round dancers, Nita's business was referred to as the "Neiman Marcus of the dance world," and her dress designs were seen on square dance floors worldwide. Nita and Manning were inducted into the Square and Round Dance Hall of Fame in 1971. Her hobby of genealogical research, which began with a search for her father's roots, resulted in a comprehensive book on her Cowsert family and discovery of family ties that date back to Charlemagne. As the Cowsert family historian, she seldom missed the annual reunion in Junction and always treasured her time in the "Hill Country." She was an active member of the Daughters of the American Revolution, Colonial Dames of the XVII Century and P.E.O. She was preceded in death by her husband, Manning Smith, on October 7, 1992.
Manning Smith graduated from Centenary College in Louisiana, then coached at Texas A&M for twelve years, during which time the Aggies had the number one team in the nation. Manning's wife, Nita, was square and round dancing when she was a small girl and square dancing was Manning's hobby for many years before the two of them became totally involved in the activity in the mid-1940s.
Getting more and more into teaching and calling, the Smiths attended the summer sessions with Lloyd "Pappy" Shaw in Colorado Springs and soon were staff members on a number of vacation institutes, state festivals, and leader's training workshops. During these years, Manning served as president of the Texas State Square Dancer's Association and in the early 1950s he called on a series of records for Columbia.
The Smiths, as a team, had the strong conviction that squares and rounds belonged together. From the start of their calling and teaching experiences they included the rounds as a part of their program. Eventually their ability as round dance teachers took over and they found themselves featured on programs and clinics throughout North America. In the early 1960s the US Air Force sent them on an extended teaching and calling tour of military bases across Europe.
In the field of rounds, Manning and Nita originated many dances both for their exhibition work and for the dancing public. These included among many: Mr. Guitar, Mannita Waltz, Beautiful Girls of Vienna, Suzie Mixer and Sheridee Waltz.
The Smiths were inducted into the Square Dance Hall of Fame in 1971 and were awarded Roundalab's highest honor. Manning, who passed away on October 7, 1992, was a charter member of Callerlab and was honored with the Milestone Award in 1978.
---
SIO Article: MORE THAN TWENTY-FIVE YEARS of devotion and dedication in bringing the joys of dancing to countless numbers is the record held by Manning and Nita Smith. We are pleased to salute them this month and add their Gene Anthony portrait (not shown on the cover) to The Sets in Order American Square Dance Society's Hall of Fame. We invite you to turn the page and learn a bit more about this unique couple. (Cover photo by Jack Garber).
A physics and math major, former All-American football player and coach, Manning Smith's hobby for many years was dancing. Nita was a Physical Education teacher and started dancing about the same time she started walking. This activity, square dancing and round dancing, has been fortunate that a couple such as the Smiths has been one of its guiding lights.