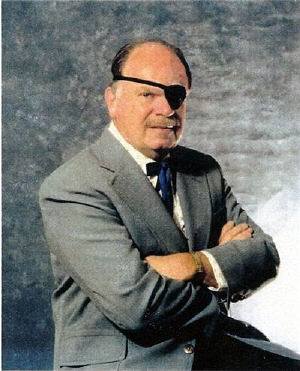 Bob Osgood started calling in 1938 while a college student in Southern California, and continued teaching and calling during WWII in the Navy whenever the opportunity presented itself. In 1947, Bob attended Lloyd Shaw's master callers course in Colorado Springs, and by the end of that year, he had an active local program underway.
In the fall of 1948, he started Sets in Order Square Dancing magazine and went into square dancing full time. In the late 1940s and early 1950s he became one of the first traveling callers, calling and teaching across North America. During this time, Bob produced and hosted four television series, and did the square dance choreography on three major Hollywood motion pictures with stars that included Elizabeth Taylor, Judy Garland, Gene Kelly, Dean Martin, Jerry Lewis and Rock Hudson.
In 1950 he produced what was at that time the world's largest square dance as a main attraction of the Santa Monica, California Diamond Jubilee. 15,200 dancers took part as 35,000 spectators watched. He produced square dance sequences for Western Night at the Hollywood Bowl calling to the accompaniment of the 96 piece Los Angeles Philharmonic Orchestra, and helped produce and called for an American Legion spectacular in the Los Angeles Olympic Coliseum.
In 1951 he established one of the first on-going square dance vacation institutes at Asilomar, in Northern California, and played a key role in setting up a similar institute in Banff, Alberta, Canada. He was a staff member of other institutes throughout the country. Beginning in the late 1940s, he conducted caller schools in Canada and the U.S. In 1953, Bob was invited by the Standard Oil Company of New Jersey to travel to Aruba, in the Dutch West Indies, to teach square dancing to their employees.
In 1957, he was sent by the U.S. Air Force on an 11-week, four country square dance tour of military bases in Germany, France, England and North Africa to introduce square dancing to service personnel and their families and to train callers in those countries. In 1961, and for a period of more than twenty years, Bob along with his wife, Becky, initiated square dance vacation tours with groups of dancers, visiting more than fifty countries around the world. In the mid-1980s, he was invited by the Government of India to visit that country and to observe their national dances. Bob trained Peace Corps volunteers in recreational square dancing for use in their overseas programs. He was invited by the U.S. Postmaster General to represent square dancing at the first-day-of-issue ceremonies, recognizing square dancing on a commemorative stamp.
He served as president of the American Square Dance Society, which was a moving force in promoting, protecting and perpetuating the activity, sponsoring the Square Dance Hall of Fame and the Silver Spur Awards, established to recognize those men and women who contributed meritorious service to square dancing. The American Square Dance Society, under Bob's direction, presented caller school scholarships to budding callers throughout the world.
In 1961, he helped set up a three-day "think tank" in Glenwood Springs, Colorado with five other caller-leaders. In the mid-1960s he spearheaded the first of two caller-seminars on the UCLA campus. In 1961, he was instrumental in the formation of CALLERLAB, served as its first Executive Secretary, and later as Chairman of the Board. CALLERLAB's home office and staff was originally provided by Sets in Order. In 1972, he was co-organizer of Legacy, the square dance leadership and communication organization.
Bob edited Square Dance Magazine for 37 years. Wrote, compiled and published more than twenty texts, manuals and handbooks, including the many editions of the Basic Movements of Square Dancing Handbook. Produced the yearly "Documentaries in Sound" recordings and also produced an indoctrination film "Square Dancing" which was translated into a number of foreign languages and distributed around the world by the U.S. State Department. Recorded on the Capitol Records and produced and called on the Sets In Order label.
Three of the four men (Lee Helsel, Arnie Kronenberger and Bob Van Antwerp) who, along with Osgood, served in the organizational phases of Callerlab, has this to say: "A description of the formation of Callerlab would be incomplete if it didn't recognize the contribution and pivotal role played by Bob Osgood. His unique position as editor of Sets In Order Square Dancing Magazine and his broad contacts with the callers, teachers, and leaders in the square dance field, linked with his strong, enthusiastic leadership allowed him to truly become a moving force behind the birth of Callerlab. Bob was the innovator and a superior leader, and without his tireless drive and skill to organize the effort, there would not be a Callerlab today."
Osgood received Callerlab's Milestone award in 1978, the Gold Card in 1982, is a member of the Square Dance Hall of Fame, recipient of Legacy's Heritage Award, and is listed in Who's Who in America.