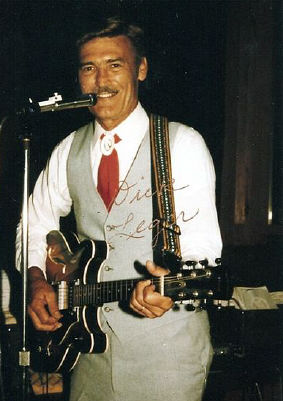 Dick was born and raised in the Riverside area of East Providence, Rhode Island in 1926. Son of French immigrant mill workers, he joined his father at the Rhode Island Lace Mill at the age of 16. During his short stay at East Providence High School, he was in the marching band, where he met his future wife Sue Durfee. This fortuitous meeting, which turned into a 50+ year marriage, was the key to his becoming a caller.
Dick would drive Sue, her parents, and a few other musicians around to various dances and small performances, where they played traditional and popular music. Sue was from an accomplished musical family, her uncle having been one of Artie Shaw's sax players, and her mother being a professional fiddle player.
Dick would sit on the sidelines all evening during these shows watching, and began to think "I could do this - but I need to learn an instrument." This led him to pick up a guitar and, and after a few months of teaching himself some chords and simple picking, he joined the "orchestra" on stage for their dances.
A half dozen years later, Dick had his own Square Dance club in Warren, the "Rhody Merrymakers," for whom he acted as caller for the next 40+ years. As his popularity grew, he began calling at clubs and dances in Southern New England, eventually becoming known throughout the Northeast U.S. and into Canada as "The Man With The Guitar" for his unique practice of calling accompanied by only his guitar playing.
In the middle '60's, Dick began recording his singing calls, covering Country Western standards like "I Walk the Line" and "Marianne" and the not-so-Country standard "Oh Bla Di, Oh Bla Da," as well as dozens of others over the next 20 years on Grenn and then Kimbo records where, for the next decade, he produced a dozen or so albums used by gym teachers around the U.S. to teach Square Dancing. It's fair to say that, if you learned to Square Dance in school, in all probability you learned listening to a Dick Leger album.
At this time he also began teaching calling schools for aspiring callers, and by the late '70's, Dick had become known internationally, and he began traveling the world calling dances, and teaching callers. His travels stretched from Australia to Japan and included most of Europe.
His list of awards and recognition is long: induction into the International Square Dance Hall of Fame in 1978; recipient of International Callerlabs' Milestone Award - the highest award a Caller can receive - in 1985; induction, with Sue, into the Square Dance Foundation of New England's Hall of Fame - where his guitar and awards on now on display in 1994; and, in 1996, once again with Sue, being awarded the New England Square and Round Dance Cooperation Committee's Yankee Clipper Award for a lifetime of dedication and commitment to square dancing.
Dick passed away in 1999.
---
Dick Leger - Have I Told You Lately That I Love You?
---
SIO Article: THE AMERICAN SQUARE DANCE SOCIETY this month salutes New England caller Dick Leger and in a simple ceremony January 17 at the Society's headquarters in Los Angeles, adds his portrait to the Square Dance Hall of Fame. Dick is one of those individuals who has successfully bridged the transition of American square dancing from the traditional to the contemporary. Long an advocate of the importance of dancing to music, Dick has not only instilled this in his dancers but has successfully interjected this into contemporary calling and dancing. Not so well known outside his New England area, Dick's influence is strongly felt by many dancers who have learned to square dance through callers that Dick has trained in his yearly callers' schools. A gentle person, Dick is also a showman. Accompanying himself on the guitar, his main objective seems to be to provide enjoyment, to avoid over-complication and to project a spirit of contagious pleasure in all those with whom he comes in contact. His score card of achievements are many. As a recording artist, a member and committee head of CALLERLAB, supporter of square dance activities within the areas in which he comes in contact and as a supporter of all that is good in this activity, it is easy to see that Dick is a logical choice to be honored in this manner. The portrait above and also featured on the cover of this issue is a replica of the oil painting produced by renowned California artist Gene Anthony who has been commissioned to do the portraits of all Hall of Fame members. As is always the case, in honoring the caller we also pay a special tribute to the caller's partner. In this case our salute also goes to Sue Leger, a part of the team.