| | |
| --- | --- |
| Abbreviation: | SIR |
| Sibling Label: | Snow |
| Owner: | Paul Bristow |
In 1986, Stefan Sidholm and Ingvar Pettersson, formed a company that they decided to name "Sting Productions". They invested as much money as they could borrow, hired musicians and a studio and recorded two records. Sting Productions began to grow. Very soon after the first two records Stefan and Ingvar asked Bengt "Bula" Ericsson to assist with the production. With Bula's help the music began to take on a definite shape and flavor that would be identified with Sting for many years to come. In the early days a number of callers recorded on Sting Records but very soon the regular staff were identified as Stefan, Ingvar, Robert Bjork, Al Stevens and Paul Bristow.

There were still a number of callers who were looking to make records. Stefan and Ingvar decided to create a second label that would provide some of these other callers with the opportunity to record. Snow Records was founded as a "sister label" to Sting; it was agreed, from the outset, that Snow would have equal status to Sting in all respects.

During the first fourteen years, Sting and Snow Records enjoyed a great deal of success. A total of sixty nine records were released, all of which sold well, many appeared in the top sellers, and a fair number reached the number one spot on the release table.

In April 2000, Stefan and Ingvar transferred ownership of Sting and Snow Records to Paul Bristow. Sting and Snow Records returned to full production in March 2001. Since the beginning of 2002, virtually all of the company's back catalogue have become available as MP3 files.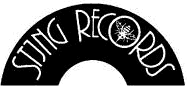 www.stingproductions.co.uk