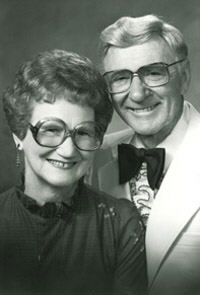 Audrey Palmquist, the remaining half of the incomparable round dance team of Eddie & Audrey Palmquist, died peacefully in her sleep Sept. 11, 2010, at her home in Laguna Woods, CA. She had just celebrated her 100th birthday. Eddie died in 1999.
A native of Hamilton, Canada, Audrey was born into a family where no dancing was allowed. She discovered dancing when, as a school teacher, she was required to take a YMCA recreation class to oversee playground activities at the school. Folk dancing was part of the YMCA curriculum, and she fell in love with dancing. With her first husband, Van Van Sickle, she started folk dance classes in local churches, started two round dance clubs and became a charter member of the Toronto and District Square Dance Association.
She met Eddie Palmquist when she organized two groups of dancers--one from Chicago and one from Niagara Falls--to go to the 1964 National Square Dance Convention in Long Beach, CA. He had been widowed earlier that year and was a last minute substitute to teach a basic tango clinic. Audrey was the moderator scheduled for that clinic. She asked him to come to Toronto twice after that to put on clinics for her classes. She moved to California in 1966 to teach with him and they were married in 1968. Each has an extensive list of choreography to their credit, and together they wrote nearly 200 round dances and put on dance improvement clinics throughout the United States before retiring in 1996.
Ten of their dances have been named to the ICBDA Hall of Fame, more than any other choreographer. Some of the classics they wrote are "Answer Me", "Tips of My Fingers", "I Want to Quick Step", "Lovely Lady", "I Know Now", "Scent of Roses", "Autumn Nocturne", "Don't Cry for Me Argentina". They received the highest honors given by any of the international round dance organizations, including Roundalab's Silver Halo Award and URDC (ICBDA)'s Golden Torch Award.
They authored a book for round dance teachers called "Step By Step Palmquist Style". They had video tapes made of their Sunday once-a-month clinics teaching the basic International waltz steps. These video tapes are available through the Norm Puzey Memorial Library. They organized 24 cruises for dancers.
Audrey & Eddie were instrumental in the formation of URDC. They hosted a barbecue at their home for cuers and dancers who had just attended the 1976 National Square Dance Convention in Anaheim, to talk about forming a separate national round dance only convention. Audrey had those in attendance sign a tablecloth as proof of their commitment to support the Gilberts who would host the "First Worldwide Round Dance Convention" the next year in Kansas City.
They were also among the charter members of Roundalab, attending the first convention in 1977 and being named to its first Standardization Committee.
Audrey is survived by her son Paul Van Sickle and Eddie's five children. She and Eddie are also survived by 20 grandchildren, 26 great grandchildren and two great great grandchildren.