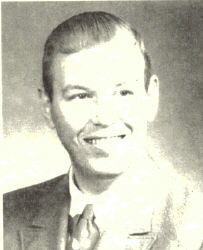 Lloyd first experienced square dancing in 1944 while in the Navy. Following the war, he started dancing at the Akron, Ohio, YMCA and after about a year started calling. His interest in this field increased and by 1956 he made calling his profession. He met his wife, Myrtis, while calling at the Y. Calling and teaching was his entire life and he was a firm teacher to the callers who came after him, in the adage of "keep them dancing".
He was one of the few callers who could perform in front of a live orchestra and has expressed regret in the loss of live music at the square dances. Lloyd's modesty was exceeded only by his devotion to the art of choreography and he believed in progress of the individual dancing to new figures, going on to new friendships, progressing to a new and wider activity of square dancing and on to a greater appreciation of choreography in square dancing. Not only did he call for his home clubs, but he called for the Golden Agers groups, the Society for the Blind, Society for Crippled Children and many other organizations.
Lloyd was always ready to give his talent to create joy and good fellowship in the hearts of everyone who was interested in square dancing. He had the personality and the ability to project this joy to be found in square dancing.
Author of the "Instant Hash" book plus many other written contributions to the square dance calling profession, he was a leader and advocate of today's flowing choreography. Uppermost in Lloyd's endeavors was to help create a common language in our square dance choreography analysis. Credited to him are such commonly used terms as zero-movements, equivalents, set-ups, get-outs, 1P2P route lines, box 1-4 couple formations, etc.
Lloyd's unique combination of a fine sense of timing, a musical background, and a most exceptional mind in the geometries of square dancing, accounted for his acceptance in the Cleveland-Akron area.
Together with his wife, Myrtis, the Litmans became increasingly interested and involved in the many phases of dancing. Over the years they took part in the production of a number of television programs. Lloyd was a unique talent. He passed away January 16, 1968 at the very early age of 41 and was posthumously awarded Callerlab's most prestigious Milestone award in 1975.