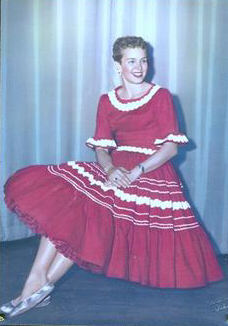 Gloria Ferne Ramey (Rios-Roth) was born Oct 18, 1929. About 1934, she climbed up on an ivy trellis to peer through the coach house window at her home in Needham, Massachusetts. She watched their Baptist Minister and his wife square dancing to records on a Victrola. She often recalled how she "thought that was the most beautiful thing ... and to think that the minister was dancing and laughing and have such a wonderful time."
In 1946 while attending Needham High School in Massachusetts, Gloria used an Ed Durlacher square dance record album to teach the football team and the cheerleaders. In 1949 she began modern western square dance lessons with Westfield's Pioneer Valley Club and was almost immediately encouraged to begin calling. By the third class a square came back to her house to practice. In the 1950s, she started calling with a band and by 1952 was teaching others to call. In 1952 Gloria graduated from Westfield College with a BS in Education.
While in college she met and married Mido Rios and began her family of five children: Torry (Rob) Sullivan, Randy (Lee) Mattson, Gwen Atkinson, Leslie Ann Rios, Tiger (Denise) Roth. She and her husband built The Woodlands in Westfield Massachusetts and began a Children's Camp. This she continued for 38 years moving it in later years to The House of Roth in Clementsport. The camp included the teaching of synchronized swimming and gymnastics.
While living in Massachusetts she was instrumental in organizing the Springfield Area Callers Association and was involved in the formation of the New England Council of Callers Association. Gloria and Mido divorced in 1965.
In 1968 she and her second husband, Johnny Roth, came to Nova Scotia by ferry from Bar Harbour to Yarmouth and drove north. They saw "this huge, massive, place from a distance, it looked like a chateau sitting there nestled in the trees and everything across the water". This long-vacant 16-room house with its two red chimneys had been completed but never occupied. They soon saw that 7 squares could dance in the three rooms on the first floor. With good memories of summers spent in Nova Scotia with her Canadian parents, it was a dream come true to settle at the House of Roth in Clementsport.
In 1970 Gloria and Johnny organized the Maritime Callers Clinic Association and chaired the first Maritime Convention at the Lord Nelson Hotel. This organization was later renamed the Maritime Callers and Cuers Association, but has always been known as MCCA.
She produced a one-hour square dance radio program for 10 years on AVR - Digby, and "called" numerous times on television. By 1974 she had been listed in "Who's Who of American Women" for work in the educational field. In 1975 Gloria became active in Callerlab and continued to attend the meetings until 2007. In typical fashion she drove across the country alone to attend in Colorado Springs. She served on several committees and made numerous presentations. About 1980 Gloria was the first person to go through the official Caller Coach testing process recently created by Callerlab. She became the first woman Accredited Caller-Coach one year after the Board approval of the initial nine men.
In 1982 Gloria's Black-light Dancers entertained at the 3rd Canadian National Convention in Halifax, Nova Scotia. This included her special "Kaleidoscope Square" creation, which was also featured at the Calgary Olympics opening ceremonies in 1988.
By 1997 Gloria had been calling for 50 years and, at the Portland, Maine mini-meeting of Callerlab, was the first woman to receive Callerlab's Half Century Award. In 1999 at the Dallas, Texas meeting, Gloria became the second woman to receive Callerlab's "Milestone Award". This is Callerlab's highest award and goes to Callerlab members who are deemed by the Executive Committee to have displayed leadership and professionalism while making unselfish contributions in uncharted fields that have stood the test of time and had a broad influence on the activity. In 2002 Gloria was inducted into the Square Dance Foundation of New England Hall of Fame for her actions over the years that advanced the promotion, preservation, and perpetuation of the square dance activity. In 2005 Callerlab awarded Gold Card Life Membership to Gloria at their Louisville, Kentucky Convention. This special honor is bestowed upon members who have served CALLERLAB in an outstanding and meritorious fashion. She was the first Canadian and (in 2010) is the only woman to have received this award.
She is the only caller to have owned a square dance center for her entire career (first The Woodlands and then The House of Roth). Over the years she started six square dance clubs and it is estimated that Gloria taught more than 1,800 people to square dance. Gloria started Camp and Dance Weekends at The Woodlands in Massachusetts, continuing them at The House of Roth. Many Nova Scotians and visitors from across the continent have wonderful memories of those glorious summer days camping on the beautiful grounds around the House of Roth. She called at, and had her exhibition troupes at, numerous New England Square and Round Dance Conventions, Maritime Square Dance Conventions, Canadian and US National Square Dance Conventions, and local festivals. Gloria called square dance demonstrations at schools and colleges, nursing homes, shopping malls, town celebrations, local fairs, and benefit dances.
For 37 years she taught and called square dances for teen square dance groups. She also formed a dance troupe of senior women without partners named LORETTES - Ladies of Retirement. They perform soft shoe, country western, ballet, drill marching, and round dancing for their pleasure and to entertain others. They continue to dance even now. She belonged to Caller organizations in Nova Scotia and the Maritimes, Massachusetts, New York, Pennsylvania and Florida. For more than 40 years Gloria conducted her own caller training schools in Massachusetts, Canada, Florida, Georgia, and New Zealand. Many Nova Scotian and Maritime callers attended one or more of these intensive weeklong "Colleges" at the House of Roth. "Sets In Order" and "Round Dancer" magazines published her articles several times.
Gloria recorded on Top, Blue Ribbon, Grenn, HiHat and on the Sets In Order documentary records.
She died in 2010 after a prolonged illness. Oct 18, 1929 - Jan 23, 2010