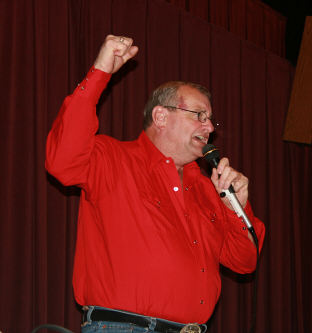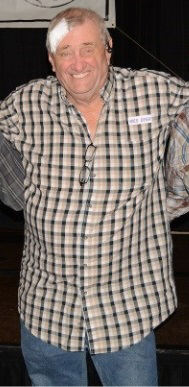 Mr. James Wesley Dyer, of Mt. Washington, Kentucky, formerly of Burkesville, Kentucky passed away Thursday, April 8, 2021, at Baptist East Health Care in Louisville, Kentucky, having attained the age of 73 years, 7 months, and 8 days. He was born on Sunday, August 31, 1947 in the Mud Camp community of Cumberland County, Kentucky the son of Travis and Lydia (Cloyd) Dyer. He was of the Church of Christ Faith, a member of Mud Camp Church of Christ, a recruiter for Admiral Merchants Motor Freight Trucking Company, and a member of the Kentuckiana Square Dance Association. In addition to his parents, he was preceded in death by his daughter, Tami Lynn Dyer, brother, William Edward Dyer.
Also known as "Big Enis", Wes frequently performed with "Little Enis" (Kenny Jarvis). Wes Dyer took Square Dance Lessons in 1972 in Louisville, KY. Upon graduation he was interested in how the caller put this Square Dance puzzle together, so he asked several callers in the area what you had to do to become a caller and in 1973 he was in a callers class. Wes took and instructed multiple caller classes, seminars and caller workshops. Wes also recorded square dance records on Eagle, Marlet, Lou Mac, Enis, and Desert labels. Wes called in 46 states, 4 countries and also called for 9 cruises. Wes was also the featured caller at many state festivals as well as four Singles National Conventions. Wes was a member of the American Callers Association and was licensed through ASCAP and BMI and called all levels through A2. His goal was that everyone including himself had fun during the dance.
He is survived by his wife, Judy (Garmon) Dyer of Mt. Washington, Kentucky, whom he wed on Saturday, June 10, 1967, son, Jay (& Niki) Dyer of Mt. Washington, Kentucky, sister, Janice Stalcup of Burkesville, Kentucky, grandchildren, Kaila Dyer (& Patrick), Dylan Dyer, great-granddaughter, Ashlynn Rose.
The funeral service was conducted on Tuesday, April 13, 2021, at 2:00 pm in The Memory Chapel of Norris-New Funeral Home with Dr. Paul Anderson, and Bro. Gary Cash officiating. Eulogies were given by Kaila Dyer, and Dr. Paul Anderson. Casket bearers were Dylan Dyer, Patrick Mitchell, Paul Anderson, Chuck Bryant, Paul Stalcup, Daniel Stalcup, Robert Hall, Gary Carver. Greg Stalcup, Edward Stalcup, Dewaine Lowe. Burial was in the Burkesville Cemtery. In lieu of flowers donations are appreciated to the American Heart Association in Mr. Dyers's Memory and may be left at the funeral home. Norris-New Funeral Home of Burkesville, Kentucky was honored to be in charge of arrangements.