Profile in Callers and Cuers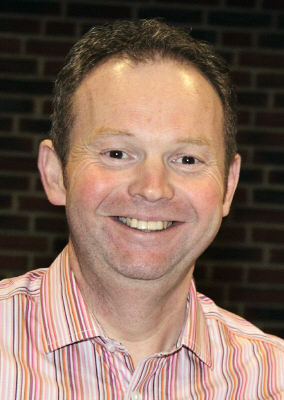 In 1981, James attended a one-night-stand sponsored by Pairs n' Squares of Basingstoke. James was "bitten by the bug" - he couldn't get enough Square Dancing. In 1982, he began calling a student class for Happy Hoedowners of Bournemouth. It wasn't long before James was traveling sometimes 3 times a week to Bournemouth to call. While Calling for the Happy Hoedowners, James was invited to become one of the Club Callers for Southampton Squares (a club he still calls for today).
James calls Mainstream 53 thru A2, and presently calls for 3 clubs: Southampton Squares, Tadley Squares and Tilehurst Swingers. Other clubs that he has been Club Caller for are Chiltern S.D.C and Adepts S.D.C.
James is a regular staff Caller at many festivals and weekends throughout the U.K. and Europe. James has called in many countries including Germany, Switzerland, Holland, Denmark, Sweden, Norway, U.S.A., Scotland, Wales and Guernsey.
One of the highlights in James' calling career was calling to 150 squares at the 2001 National Convention in Anaheim U.S.A. while being backed by the Ghost-Riders Square Dance Band. Another highlight he recalls was calling on top of a mountain in Switzerland, 10,000 feet above sea level, with nothing more than a walking stick to make the music.
James is an Accredited Member of Callerlab and also a member of the Square Dance Callers Club of Great Britain.
In 2000, James was invited to become a Recording Artist for Sting Records, and he is now Associate Producer and has made 2 trips to Nashville to co-produce music for the label.
James resides in Basingstoke, Hampshire, England. He is married to Brenda and they have 2 children, Lori-Ann and Rocky, plus a dog called Fizz. Both of James' parents Sheila and Arthur are still very active Square Dancers.