Profile in Callers and Cuers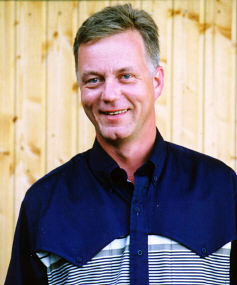 Thorsten started calling in 1979 for the "Pader Jumpers" in his hometown Paderborn, Germany where he learned to dance in 1977. Here, he called MS clubnights and classes for 20 years. His Plus & Advanced Club "HANG LOOSE" is still up and running in downtown Paderborn.
Since those early days he has enjoyed calling in the USA (Florida, Texas, Hawaii), Australia, New Zealand, Great Britain, Sweden, Norway, Denmark, The Netherlands, Belgium, Luxembourg, Austria, Czech Republic and Switzerland.
Together with his buddy, Kenny Reese, he organized two Square Dance Cruises that brought them along with Stefan Foerster and Robert Bjoerk to the Caribbean.
As a member of ECTA he has served a number of years on the board as Secretary and later as Vice President. He is also a member of CALLERLAB.
Highlights through the years:
STUDENT DANCE / Dortmund (first open dance ever!) in January 2001 we celebrated 20 years of everlasting Basic 33 fun.
The famous DO SKI DO/Austria Skiweek, skiing & dancing, what a combination
No proper March without MALMÖ and those afterparties
SALA / Sweden - trying to beat Olle Nilsson at darts & KK (Karin's Kaneelbullar)
Ingvar & Lars-Göran sitting backstage, drinking coffee
BÖDABADEN, love it ..love it..love it, Old Busking days
FORT FUN with "little" Thorsten Hubmann-great fun
STAVANGER/Norway - all those wonderful friends - Dream - beating Tor at Golf
PADER RODEO / Paderborn - Home Sweet Home
GEMEN CASTLE - friendly, historic, ghosts & Resi's Pub
Not to mention all those Jamborees, Conventions, IPACs and Shrimp Festivals (...sigh).