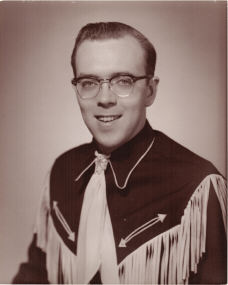 Charles (Chip) Cyril Hendrickson III, beloved husband and best friend of Frances (Cibel) (Eitapence) Hendrickson, passed peacefully at Danbury Hospital, on the evening of February 25, 2005, among loving family, after a long courageous struggle with complications of a stroke.
Chip was born in Brooklyn, NY, September 26, 1932, son of Ruth (Copeland) and Charles Cyril Hendrickson II, of Oceanside, Long Island, NY. As a pre-teen, experiencing a presentation by a Native American Family at Oceanside Library, Chip was inspired to make, what became a life-long commitment to educating the public about Indian ways. He formed a dance group in his teens and later, with his five children as the Te Wa Hey Dancers, continuing the education process. Chip created beautiful regalia perfecting his beadwork skills, leather craft and feather work. After his stroke in January 1997, Chip was not able to dance but could still teach and display his items. He became an Advisor to Explorer Post 413 in Newtown and The Red Tail Dancers led by his son Bob. The focus was on performing and educating others in Indian dance and culture.
In 1951, on Long Island, Chip entered the world of Square Dancing, a vocation he would follow for the next 46 years. He was caller to many local clubs and traveled across the country. He made 27 recordings and wrote for a national square dance magazine. Chip made the transition to Traditional Squares and in 1975 discovered the dances and music of the 18th century. He enjoyed teaching all ages as obvious to all those who attended the Parent/Child dances at CT schools and for Girl Scouts and Boy Scouts. Chip was skilled at teaching Square dances, Contras and English Country Dancing. He staffed at many dance camps from Kentucky to Canada. Chip was Producer of the annual Lincoln Center Out-of-Doors summer Country Dance Program from the mid 1970's through 1996.
During the American Bi-centennial, Chip and friend Kate Van Winkle Keller researched dances and music from the 18th century as primary sources became available in abundance. Chip, operating as Cyril Hendrickson, Dancing Master, taught the dances and developed a performing group whose members dressed in Colonial garb. As research continued it became clear that the next step was to publish the wealth of newly discovered dances and music. In 1988, Chip and his wife Fran created The Hendrickson Group to provide a vehicle to publish the books and record the music for the revival of this historic form of social dancing.
Chip was known for his loving enthusiasm and joy of life. His attitude was contagious. With the wealth of knowledge accrued over years of research, he enjoyed educating others through public performances and lectures. He loved nature, walking in the woods, camping, designing, creating and building projects and most of all his family. He was exceedingly proud of his children and grandchildren and always introduced his wife, Fran, as "my best friend and wife."