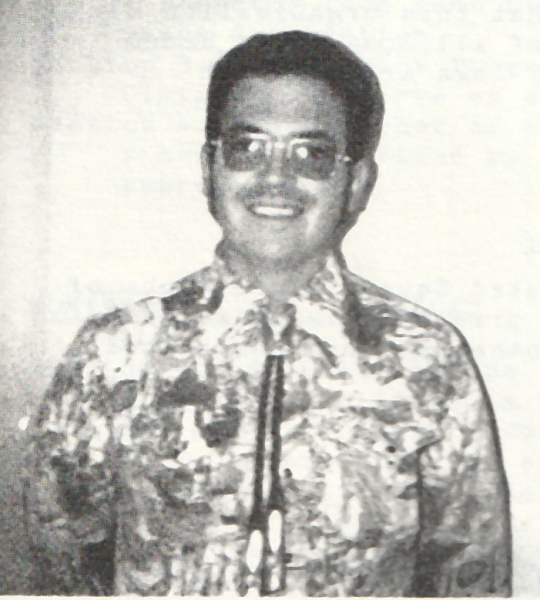 1978 article on John Moore:
Born in Southern California in 1949, John started calling for teen clubs in that area at the age of fourteen. By the time he was sixteen, he was club caller for three adult clubs. He continued to provide dancing enjoyment throughout that state until 1974, when he moved his family to Nebraska.
John is now a regular caller for the Hi-Flyers and an advanced-level club called the Moore-Fun-Squares, in Lincoln.
He works for DND Electric, out of Lincoln, and is a member, with his wife and another couple, in a country-western band called Levis and Lace.
In his spare time, you might find John sitting on the bank of a pond or lake in the spring, or walking a field in the fall.
From Hickman, Nebraska, you'll find John a most enjoyable caller to dance to, and one who truly enjoys the people he calls for and the friendships he has made.
---
From his wife, Shirley:
John Moore was introduced to square dancing when he was about 13 years old at the time his parents became square dancers in the early 1960s. He would go with them to the Silver Dollars, the Gad-a-Bouts, the Mountaineers, and other San Fernando Valley clubs. John learned to square dance under the tutelage of Art Becker, and became a part of his Shooting Stars club for teens and young adults.
After seeing the Dudes n Dolls Exhibition group perform at a Silver Dollars dance break in the San Fernando Valley and hearing other young callers like Marlin Hull and Mike Seastrom guest call at some of the dances, his love of singing and watching the dancers made learning to call a natural next step. These young callers and others formed the Young Callers Association, gathering together to work on their calling and brought other young teens with them to join in their meetings to dance.
Southern California had a vibrant square dance community in the 60s and 70s. The first dance John called by himself was at Ray Clairmont's California Twirlers. He regularly called for the Twilight Twirlers, and was blessed to be able to call with some of the best callers of that time, like: Bill Ball, Bob VanAntwerp, Al 'Tex' Brownlee, Chuck Raley, Don Stewart. John enjoyed calling with them at many Festivals, Anniversaries, and Conventions, as well as special club dances for many clubs like Twilight Twirlers, Silver Dollars, Gad-a-Bouts, Orbits, Dominoes, Red Ribbon Squares,Toys For Tots, etc.
In May of 1968, he met his wife, Shirley when her sister and husband came on a visitation to the Dominoes the night she flew in to LA to visit them from Lincoln, NE. She had learned to square dance when her parents took lessons, and one of the couples had a son who wanted to learn, but he had no partner...so, Shirley went through the classes with him. Not a regular dancer, she was at least semi-prepared to dance with John's dad that evening, and was his partner at many dances in the future.
Since her sister and brother-in-law danced with the Twilight Twirlers, one of his regular clubs in the valley, John and Shirley had ample time to get to know one another over the summer, and found that one of the many interests they shared was music. She played guitar and sang, and had spent a short time with Ann Jones and the Western Sweethearts (an all-girl band) and also a local group called the 4Wheels out of Lincoln. The deal was she would teach him to play the guitar, and he would teach her to call square dances....she fulfilled her end of the bargain... and square dancing was safe:-)
They decided to get married in November of 1968, and John started an electrical apprenticeship with the studios in September. He worked at 20th Century Fox and Paramount Studios, and suffered layoff during the unemployment crisis of the early 70s in Southern CA. Therefore, his apprenticeship wasn't completed until June of 1974. In the meantime, they had 2 sons, John Jr. and Anthony, and Shirley found that all the smog alerts, gas rationing, power restrictions, gas lines, and keeping little ones indoors because of it all was something she couldn't get used to when the state she was from had plenty of clean air, water, power, and fuel for their vehicles. Their oldest son was going to be starting school in the fall, and thought Nebraska's educational system at the time was more conducive to the value system both she and John shared. They made arrangements to move when he finished his apprenticeship, and were joined by Shirley's sister's family. On the 4th of July, 1974, their caravan consisting of a moving van, 2 campers, a car, 4 adults, and 4 children pulled into Lincoln NE, to start their lives all over.
John found work as an electrician right away, and then started looking over the square dance scene of Lincoln and Nebraska. It wasn't year around dancing for the most part, as clubs had a lot of farmers who adhered to the planting/harvesting schedule. He guest called all over SE Nebraska, taught lessons and was a regular caller with the Hi-Flyers, and his advanced-level club called the Moore Fun Squares, both in Lincoln.
In 1977, while just visiting with neighbors in Hickman, NE, he found that two of the guys (one of whom was previous military and one active duty) were musical, one was in a band that played more rock than he cared for, and they wanted to get together and "jam". Their wives provided a lot of the harmony, and they had an over-abundance of rhythm guitars. So, the guys decided that the girls should be the ones that learned the additional instrumentation since they were all three at home taking care of the kids! Go figure:-) One of the gals had access to a banjo, one to the drums, and Shirley got the bass guitar. Country Couples was officially born. A few months later, the one was transferred to Texas, and the remaining 2 couples became Levis 'n' Lace. John continued to call, and some nights came from a square dance to finish an evening with the band. They also provided live music for some square dances, small town street dances, military clubs, etc...wherever they wanted good, solid, danceable country music with a bit of rock and polka thrown in for variety.
John had always had an ethos that square dancing should be fun and keep the floor moving at whatever the level the floor could handle. He became somewhat disenchanted when he saw that the clubs and festivals were beginning to advertise certain levels for their dances, and that is what they wanted called, no matter the level of the floor. Therefore, many who paid to dance would be doing more standing, and less dancing. One of the nation's top callers had booked a club in San Diego. Since he was well-acquainted with John's folks, he stayed with them and John drove him down to SD. After being informed that he was hired to call the advanced level instead of what he had just called. He proceeded to do the next tip with nothing but the basics. The floor stopped! He said something to the effect of, now that we have that out of the way, let's get down to dancin' and havin' fun! As this trend showed no sign of ending, he sold his equipment in 1981.
He worked for Southeast Community College as head maintenance electrician and oversaw the electrical installation in the new college, and also a couple of electrical contracting companies as a journeyman. There were two additional children added to the family during that time, a daughter, Amanda, and a son, James. In the late 1980s he got his Contractor's License, and in 1991 started Moore Electric. By then, the square dancing and the band were relegated to occasional shows with the Roca Opry, and some private dances.
Today (2023), he is semi-retired from Moore Electric, where son, Tony, is now the "boss". He likes to be found on a good trout stream with a fly rod in his hand, instead of a mic. His grandkids have talked him into showing them a bit about square dancing at Christmas gatherings, and he has a lot of fun with that. Some of you may recall having danced the "doodly squat", and if so, it was likely that John was the caller. Square dancing was a majorly enjoyable part of his life. He truly enjoyed the people, and the friends he made over the years. Happy Dancing to All!! (no matter your level)