Profile in Callers and Cuers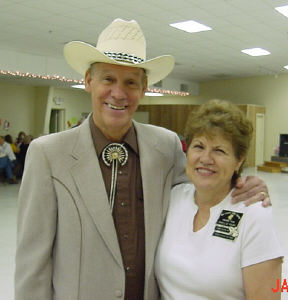 Jerry started Square Dance Lessons in Roswell New Mexico January 1972. In September of 1972 he started his calling career and by 1973 he was calling for clubs in Artesia, Roswell and Tatum, New Mexico plus guest calling throughout New Mexico and West Texas.
From 1976 thru 1989, Jerry traveled six months a year throughout the United States and Canada calling special dances. Some highlights of his traveling include the following; Minnesota State Festival (2 times), Missouri State Festival (2 times), Utah State Festival (3 times), numerous Federation and Association Dances.
He moved to the Rio Grande Valley in November 1976. He called dances and taught classes at several RV Parks in the Rio Grande Valley of Texas.
In 1983, he decided to develop his own RV park, specializing in Square and Round dancing, by 1984 his dream was fulfilled with the completion of LAKEWOOD RV PARK in Harlingen, TX. The hall has 10,000 Sq. Ft. with a floating wood floor, sound proof divider to divide and create two halls with 17 Square Dance Sessions each week from beginners thru C-1.
In 1997, Jerry and Phyllis sold Lakewood RV Park and relocated to Indiana during the summer months, from April thru October. Jerry calls square dances thru the mid western states and from November thru March he calls & teaches square dancing at Park Place RV Park, & Sunshine RV Park in Harlingen Texas.
Jerry is a member of Callerlab and records on Sun Ra and Cimarron records