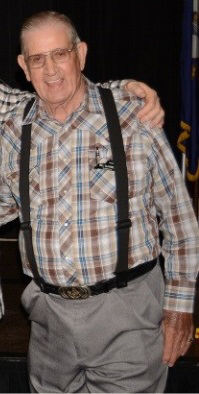 Bill Claywell -- Legendary Kentucky Caller -- The Boy From Nobob (1930 - 2022)
Bill passed away peacefully August 31, 2022 in Buckner, KY at the home of his sone Michael. He started calling in the early 1960's while working in South Dakota, and was a natural at it. Word of his talent spread quickly, and he was soon traveling all over the country calling square dances. As a recording artist on the Lou Mac label, for whom he recorded numerous songs, Bill was awarded a gold record for "You Call Everybody Darlin'".
Mr. Claywell leaves a true legacy in the square dance community, having mentored and advised numerous callers. Wes Dyer's story about calling "Daddy Frank" at a party only to be put on the spot the following week at a square dance when Bill handed him the mic and "requested" he call it again. It didn't go so well, and Wes ended up learning the craft in the Claywell's basement. Wes passed along that legacy by mentoring just about every currently active caller in Kentucky.
As a boy, I enjoyed listening to Bill call for the Red Hot Rompers club in Louisville while attending dances with my parents. That enjoyment led me eventually to try my hand at calling, and if you listen closely when I call, I'll bet you can hear the Claywell influence. If you have been dancing for 20 years or more, I have no doubt Bill Claywell left a lasting impression on you, too. To continue his legacy and expand his memory, please honor him by sharing your thoughts, stories and memories in the comments.
Link to Mr. Claywell's obituary
Pictures from Edmonton KY Herald article dated 2/26/2020. Bill calling in his living room, gold record in the background, and Bill with wife Betty at their home in Nobob, KY.
---
By Chuck Woods
on Facebook