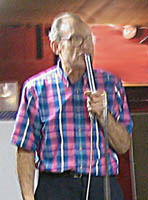 Ralph started doing traditional square dancing in 1944 and began collecting dances and practicing at home. He also began participating in local fife and drum corps. In fall of '48 at a dance at the Ekonk Grange with caller Al Lindell, Ralph called his first live dance. Over the next few years Ralph called and danced in CT, Vermont and New Hampshire, and then took up modern Western Style square dancing. During the Korean War, Ralph was stationed in Texas and in Boston and there he continued square dancing and began to take up Irish Ceili, English Country, Scottish, International Folk and contra dancing. After the war he taught Western style square dancing, raised a family and bought the Powder Mill Barn in Enfield, renovating it for square dancing. He gave up his engineering career in favor of teaching high school physics and science to allow more time for calling at dance classes and square dance clubs."
During the 1950's, 1960's and well into the 1970's there was little or no contra dancing in Connecticut. Then, to celebrate the Bicentennial, Ralph formed a costumed exhibition group which demonstrated colonial era contra dances. This led to local interest in holding regular contra dances. Throughout this time, Ralph continued playing with the fife and drum corps. His son, Walt was an excellent fifer and Ralph played accordion for the contra dance series that were forming in Hartford and at the Powder Mill Barn. However, most drum corps fifes play in Bb, and most fiddle tunes are written in D, G or A. Thus, he began making flutes and fifes in other keys to play with the fiddle in the newly formed "Fifer's Delight" band. This led to the formation of the Sweetheart Flute Company because people kept asking if they could buy one of Walt's instruments. (http://www.sweetheartflute.com/).
Ralph continued holding regular dances in Enfield, Hartford, and eventually South Amherst, Ma. He retired from teaching after 29 years and now devotes himself to making flutes and fifes fulltime. He calls at local dances throughout Connecticut, the rest of New England, and even as far away as California. In addition he calls at camps and festivals: CDSS's English and American week at Buffalo Gap, New England Folk Festival, Wild Asparagus' Dance-a-Rama, Dance Flurry Festival, Falcon Ridge and Winterhawk. He is sought after for his expertise with beginning crowds, but seems best loved for his rendition of '50's era singing squares. When not calling, he dances contras in Greenfield, MA, Quebecois Squares in Montreal or Irish Set dances in Glastonbury, CT. He celebrated his 50th year of calling in the fall of 1998.