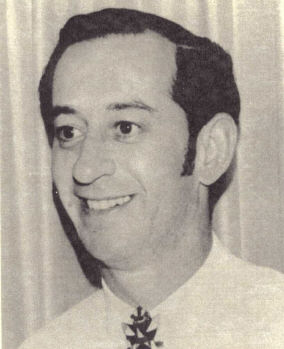 First exposed to square dancing while employed as a recreation director for the city of Miami Beach, Florida in the early 1950s, Jack Lasry was impressed with the recreational values of the activity. Before long he was calling for children and conducting one-night stands.
With time out for obtaining a college education and raising a family, Jack and his wife Carolyn, kept contact with the activity through party nights and one-night stands.
In 1960, Jack was invited to take over the calling for a club in nearby Homestead, Florida. This first real experience with club calling and teaching led to the big step for the Lasrys when they opened their own square dance hall, "Trails End," in Miami.
By 1965, Jack had become a full-time caller appearing at many of the large festivals. With a background in school teaching, it was a natural step for Jack to move into the field of caller training. Conducting a number of callers clinics of his own, he was also featured on the staff of several others.
Prolific in the creation of dance material, he edited a very successful callers note service, and his articles appeared in a number of square dance publications.
A member of the Square Dance Hall of Fame and charter member of Callerlab, Jack served the organization as Chairman of the Board and in many other ways. He was honored with the prestigious Milestone Award in 1980. Jack passed away October 9, 1990, leaving a legacy of devotion to the activity.