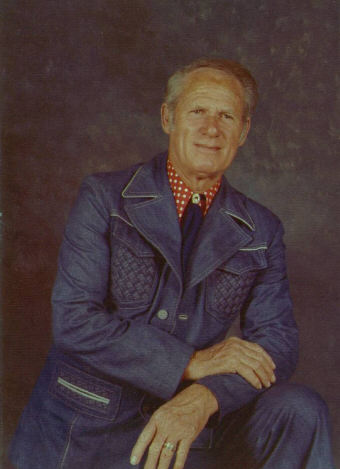 Allie Morvent was born September 8, 1916 a native of Andrew, IA. He started calling around 1964. He was the featured caller for the European Dancers Winter Jamboree in Mannheim, Germany Nov. 29, 30, Dec. 1, 1968. Stopped calling around 1994.
Wife Minnie Morvent. Six children 3 boys/3 girls - all of which called some Singing Calls at one time.
Clubs which Allie called for:
Buna Barn Stompers, Buna, Texas
Swinging Squares, De Ridder, LA
Groves Promenaders, Groves, Texas
Allemanders, Port Acres, Texas
Bayou Promenaders, Lake Charles, LA
Allie was a rural route carrier for the Post Office.
Allie liked Jimmie Rogers and sang some of his songs playing the guitar while singing along with other instrumental songs.
One song he sang (I Always Get Lucky With You) all the kids called it the PAPA SONG cause, everyone thought he wrote it. Actually it was a Merle Haggard song.
Allie recorded on Go and Rockin' M record labels.
Allie died in November 2, 2002.