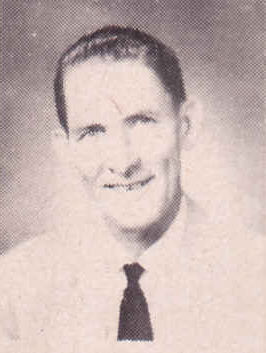 Soon he was conducting callers schools on his own, as callers from all over sought his instruction. It is doubtful that anyone conducted more callers classes than Ed did over a period of two decades. Ed wrote extensive Callers Instruction Courses and numerous articles documenting his methods.
He recorded on Sets in Order, Balance and Decca and he had his own band called The Boom Chuck Boys. Although much of his time was spent on the road, calling at festivals and conducting caller classes, he always maintained a strong, home club program.
Ed was a founding father of the annual National Square Dance Convention and a recipient of the Silver Spur Award. Ed was present at Bob Osgood's three-day "think tank" in Glenwood Springs, Colorado with five other caller-leaders in 1961, as well as at the caller-seminars on the UCLA campus in 1964-65. As a member of the Square Dance Hall of Fame, he was invited in February 1971 to attend an "Honors Banquet" at the Asilomar Conference Grounds that concluded with the group signing of the eight point charter that would be the start of Callerlab.
In March 1971, Ed returned to Hibbing, Minnesota where on previous occasions he had trained many callers. Shortly upon his arrival he was taken to the hospital for observation, and though quite uncomfortable, he conducted what must have been the most unusual callers course of them all. Allowed only one or two visitors at a time, the entire enrollment of the course settled down in the reception room of the hospital, each member waiting his turn to talk with and be coached by Ed. When Ed passed away in June 1971, slightly more than three months after he shared in the creation of Callerlab, it brought to a close a very special era for square dancing. Ed was honored with the Callerlab Milestone Award posthumously in 1979. To learn more see The Ed Gilmore Interview.
---
ED GILMORE of Yucaipa, California passed away June 7, 1971. Speaking of Ed, Dorothy Shaw had this to say: "Of all the people who have continued to work with square dancing over a long period of time, Ed has stood at the top for steadfastness. With his great gifts of rhythm, music, pattern, and the spoken word, Ed could have amassed a small fortune against this day. lie could have been the greatest razzle-dazzle traveling caller of the country. He could have thought up more "new" figures, and more complicated ones, and more "challenge" than any other ten callers put together. His are so many gifts! But he didn't take that line. He stood fast for the beauty of forms perfectly executed to the pattern of music; he stood fast for clarity of design and the execution of the design. He has stood for grace of mind and spirit as well as for the physical grace of movement. It is hard to decide to give people what they ought to have instead of what they think they want. Ed decided to do this and how grateful we all are!" The thoughts expressed so very well in this tribute are echoed by Ed's many friends.
---
SIO's Article: WE FIRST REMEMBER Ed Gilmore when he was running a paint store in Yucaipa, "a suburb of Los Angeles", and calling and teaching square dances at night in and around Riverside and Redlands. This was back in the late 1940's.
Long since the paint store has been forgotten and Ed has become one of the most influential and significant figures in the contemporary square dance scene. Nobody in today's square dance picture has worked harder at placing square dancing in its proper perspective than has Ed.
One of the first callers to hit the travel circuit, he set out on a crusade to help develop a strong and permanent activity. With his motto, "Comfortable dancing in the proper spirit," Ed has given lasting square dance pleasure to square dancers in virtually every state and Canadian province. Continually in demand by leaders' groups, he has contributed his own brand of homespun wit and wisdom in spots that have developed into strong, healthy square dance communities.
Busy Man
Contributor of many well-timed classic square dances, author of articles on the subject, advisor in many of the nation's top square dance areas and for many of the leading square dancing events (his was the inspiration behind the first National Square Dance Convention in 1953), featured caller on square dance recordings (SIO, Balance — his own label — and Decca) and inspiration to blossoming callers across the land, Ed has been truly a guiding hand during this past decade.
Ed has the ability to express the true feelings of square dancing. As a result many of his quotes have been used in square dance manuals and textbooks. Here for instance is an oft-quoted Gilmore definition: "A good dancer is one who dances automatically. He hears a command, translates the command into action, executes the figure without actually being conscious of having done the figure. This automatic reaction can only be achieved with practice, practice, practice."
Eleven months out of the year will find Ed and Drusilla, his wife, living out of suitcases and traveling from one end of the country to the other. The good Ed has done and continues to do will indeed be reflected in the strength of future square dancing in coming years. We feel privileged to dedicate our cover and this issue to him.