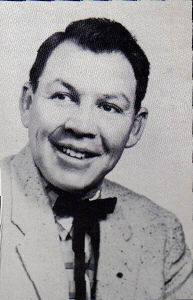 A group of local people joined a square dance club in Riverton, Wyoming, and Johnny and Marge joined them. Once the original caller left around 1950, Johnny picked up the mic and took over which led to a 50 year adventure in a profession of square dancing, that took them to all 50 states and all but three provinces of Canada. Their two daughters were able to travel with them on many of the trips including a cruise to Cuba. Many times they were left in the care of a very dear friend, Roberta Palmer, their other Mother, "Aunt Bird."
In 1971, Johnny and Marjorie moved to Mesa, AZ to be resident caller and teachers in 5 different RV Resorts, involving square dances and various couple dances. The next 15 years, Marjorie and Johnny escorted 23 square dance tours to 62 different countries. In 1985 they escorted a golf tour, playing famous courses in Scotland and England.
Johnny was on staff at numerous weekend festivals, national conventions, callers' schools and folk dance camps. Johnny was one of the charter members of Callerlab and received its highest honor, the Milestone Award, in 1982. Johnny recorded for Sets In Order and Windsor labels.
After they retired from square dancing in 1988, they were employed as Guest Service Representatives for the Phoenix Suns Arena, Chase Ball Park and the Dodge Theatre, working many events including concerts, World Series, Suns, Diamondbacks, Coyotes, and Rattlers games, as well as circuses, plays, ice shows, and Presidential visits.
---
SIO's Article: It was 19 years ago this month when a young square dancer ( dancing only since November of the previous year and sidelined temporarily as the result of an emergency operation) started his square dance calling, thus marking the beginning of a most unique and colorful square dance calling career. The LeClairs, Marge and Johnny, were married in 1946, shortly after Johnny was released from the Army Air Corps, having served as tail gunner in the European theatre of operations during World War II. The LeClairs' home at that time was a cattle ranch in Burris, Wyoming and Johnny spent much of his time on horseback tending the herd of Hereford cattle. Almost as soon as he started calling he found himself to be a traveling caller, for as he tells it, from Burris everything was traveling. "We even had to travel sixty miles for groceries." In his early years as a caller two incidents left a lasting impression on the LeClairs. First was an unforgettable exposure in 1951 to Dr. Lloyd Shaw and his philosophy of square dancing. The second was attendance at the Sets in Order Asilomar Vacation Institute in 1952. In 1957 the LeClairs left Burris and moved to Riverton, Wyoming where they reside today. In addition to calling in most of the United States and Canada, Johnny has called in Cuba, Mexico and in Europe. He's recorded on Sets in Order and Windsor and continues to be one of the most popular callers in the activity today. It is with pleasure that we spotlight him as our cover caller this month.