Profile in Callers and Cuers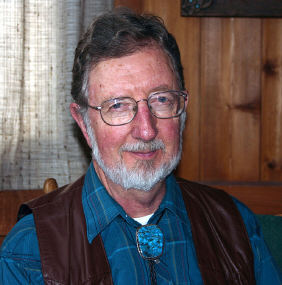 On October 14, 2021 at age 84, Calvin Leroy Campbell passed from this world. Prior to that, this prolific writer took pen to paper to record his own life story. Here it is:
Don't grieve for me. I lived a long and good life. I had a good wife who was also my best friend for over 58 years. I have three children that I'm proud of. I lived during a good time in history. I got to do many fun things.
I've lead a very interesting life since day one. I was born in Fruita, CO on August 30, 1937. My father was working in Uravan, CO and my mother's parents lived in Fruita. There were no medical facilities or doctors in Uravan.
Uravan no longer exists. It was buried as a superfund site. For the first six years of my life, I played on a radioactive tailings pile for a Uranium mill.
I grew up in Rifle, CO, during the 1940s. The population of the town was about 1500 people. It was a rural agriculture and mining community. During my early years of life, horrific events were happening around the world. However, I lived in a beautiful, safe place.
I had good parents and enough food to eat. We were often cash poor, but we always had a big garden, and my father was an excellent hunter.
I had a happy childhood. Then, a child was allowed to see and experience life in a way that has long vanished. I spent a great deal of time outdoors poking around any place that looked interesting.
I read a lot. However, most of my early years my learning was done by hands-on experiences with my fingers dug into the soil or building a treehouse or taking things apart to figure out how they worked. In that, I had the full support of both parents.
I spent a lot of time with my father. He greatly impacted my life. My mother taught me about culture and music and how to read and then write effectively.
My grandparents, on both sides of the family, provided experiences in the rural way life that you can only learn by living it. The veterinarian, that lived across the street, taught me to love animals.
I feel very fortunate that I grew up in a culture of people who danced. Almost every Saturday night we went to a dance someplace. So, I had lots of friends and experienced all the fun you can have after dark.
In high school, I was only a "C" student, but I liked school. Rifle had an excellent school system and talented teachers. I was active in school activities. Not as an athlete. I was Mr. Klutz there.
I played in the band and was the drum major for the marching band my senior year. I was interested in the technical aspects of performance art — lighting, sound, staging, etc. I also tried my hand at writing for the school newspaper.
When I graduated from high school, I had no firm goal about what I wanted to do for a career. I knew I wanted to do something interesting. I had worked at several different jobs already, and I knew some jobs I didn't want to do for a lifetime.
Veterinary medicine was intriguing. So, I attended Colorado A&M to hopefully qualify to enter vet school. I also partied a lot, chased girls a lot and danced a lot. I played in the band, worked on theater productions and even managed to mature a little.
Colorado A&M became CSU. I married a wonderful girl, and my daughter was born. After seven years of toil, I graduated as a veterinarian. So, I had a way to make a living, and I had a family to support. I thought about eventually starting a mixed practice in a small town, but first I was subject to the military draft.
The first two years following college, we spent in the Army at Ft. Bliss in El Paso, Texas. We added one son there. We learned to love the desert. I found I liked military life. Being an officer helped.
While we were living in El Paso, I met two veterinary epidemiologists. One from the Communicable Disease Center and one from the World Health Organization. They set me on the path where I have primarily dwelled most of the rest of my medical career. Digging into where diseases come from, where they go and what they do in mass populations.
After the Army, I went to work for Veterinary Services of the USDA. We moved to Santa Fe, New Mexico. My job was challenging. My area of responsibility covered animal heath for the northwest 1/4 of New Mexico. So, I traveled a lot, worked hard, met many interesting people and went places few other people got to go. My work placed me in direct contact with multiple cultures. I even got to play cowboy once in a while. Santa Fe was an exciting place to live. For fun, we could camp in the mountains or the desert. We could play in the sun. We had many places to go dancing. The multicultural environment suited us to a "T."
In Santa Fe, we started our first square dance club and joined our first church. It was there we added our last son. Judy and I were maturing in marriage. There were a few rough spots, but nothing we could not survive.
Veterinary Epidemiology was still in its infancy. Epidemiology was not even a topic that was taught in most veterinary schools. In 1969, Veterinary Services offered to send me to graduate course to earn a Master's Degree in Preventive Veterinary Medicine. This was a new graduate degree offered by UC Davis. Fourteen veterinarians from around the world were invited to be in the 1969-70 class. We packed up the family and headed for California for a one-year adventure.
To my great surprise, I graduated second in my class. As a second surprise, I also got to move back to New Mexico as the State Veterinary Epidemiologist.
Having the job as the State Epidemiologist was like turning me loose in the ultimate fun-house. Both the science of Veterinary Epidemiology and the use of computers were evolving rapidly. I got to combine both.
In the beginning, I was using primitive computer tools like punch cards, and this evolved to using the computers at Los Alamos Scientific Laboratories to solve field problems in epidemiology. This approach to epidemiology eventually became a new branch in the field of veterinary medicine. Someplace in some obscure published paper some author said I was one of the pioneers.
There were also new laboratory techniques and equipment, computers, disease outbreaks, etc. There was stimulation from places like Los Alamos Scientific Laboratories and the diagnostic laboratories that the Department of Agriculture were developing. I got to take part in all of it.
We lived for over 15 years in New Mexico. We loved living there. In Albuquerque, we bought an adobe house that turned out to be an adventure. I was the club caller for four square dance clubs. I learned to fly hot air balloons. We bought our first hot air balloon in 1977 and we flew hot air balloons for 32 years.
In 1980, Veterinary Service decided to take the computer system I had developed in New Mexico and try to make it work on a national scale. We moved to Ft. Collins CO, where there was a new USDA computer center.
Unfortunately, the computer technology that worked in a small state like New Mexico could not work as well on a national scale. It wasn't a fault in the program design. It was the massive volume of the proposed incoming data. The expectations were way more than computers, of the time, could handle. After five years of toil, I asked to be moved back to a field epidemiology position.
I was offered a promotion to the great puzzle palace in Washington, D.C., but I decided it would be more fun to accept a job as a regional epidemiologist for all the western States. That job put me back in the "action" where life, for me, was interesting. I stayed in the thick of things until I retired in 1993, and I still love epidemiology. That job eventually took me to every State in the U.S. and Canada and Mexico.
I spent the last part of my professional career bouncing around the United States as a regional epidemiologist. Judy was happily employed by the State of Colorado. We built a nice home near Castle Rock, CO. We had nice toys. They included jeeps and hot air balloons and an RV. We also had square dances to call, grandchildren close by, etc.
Unfortunately, there was a price to pay. I'm a type "A" personality. I can't slow down. First came a heart attack and then the realization that I could not continue to get on an airplane headed someplace 50% of my time and continue to live.
The usual outcome from that severe of a heart attack is the probability of only 5-7 years of life left. I decided to take the time I had left and try and have fun. So, in 1993, I retired with 33 years of government service.
What did I accomplish. It depends on who you talk to. When the paper mentioning I was a pioneer in veterinary epidemiology was presented, Judy and I were invited to the conference. It occurred several years after I retired and was being held in Colorado. About 200 veterinary epidemiologists attended from all over the world. Many were also pioneers in this new application of an old science.
When the paper was presented, I was asked to stand up and be recognized. I was among my peers and it was very touching. It was really a small group at that time, but many of the participants were people who had the same experiences and had fought the same battles to succeed. It was one minute of fame I have cherished for the rest of my lifetime. It made up a lot for all the skeptics I worked for while trying to prove computers could be used to perform tasks in veterinary epidemiology.
I wasn't bored in retirement. We had stayed active in square dancing since the college days. In 1962, we had been invited to join an organization named the Lloyd Shaw Foundation. We became very active in that organization. The organization held a week-long workshop in Colorado Springs every year. We attended every summer for 17 years. Judy and I were the historical consultants from the LSF for a National Square Dance Pageant held at the National Square Dance Convention in 1976. We were also the narrators for the production.
I wrote and published a couple of books about calling square dancing along with two other authors. Over the years, I wrote a total of five books about calling square dances, and I was on the editorial staff of two national square dance magazines.
I had also been active in the International Association of Square Dance Callers (CALLERLAB) since 1974. My participation had been limited by the requirements of my day job. Now, I could devote more time. I became the chairman of a major committee. I ran for the Board Of Governors of CALLERLAB and served 18 years on that board.
In 2006, I received the Milestone Award from CALLERLAB for my contributions to square dancing. That is CALLERLAB's highest award. In 2018 Judy and I were inducted into the Denver Area Square and Round Dance Council Hall of Fame. I was also awarded the Lloyd Shaw Foundation Silver Boot, which is their highest award.
Over the years, I called for thousands of dancers and taught many callers how to call. I continued to call many beginner dance parties.
In 1999, we started a performance dance group to showcase the best of the dances we had learned over 40+ years. With the help of many beautiful dancers and two other dance leaders, we have shown thousands of people what dancing used to look like.
I spent two years taking video production classes at a local junior college. Then, I recorded videos of many of the dances done by The Colorado Dancers and other performance groups and put them on YouTube. They are now viewed by many thousands of people each year.
We also flew hot air balloons everyplace we could afford to go. I published a book about our experiences in ballooning. I took many videos of hot air balloon events a put those videos on YouTube. Flying hot air balloons came to an end at age 73 when my knees had to be replaced.
Along the way, we bought an RV and a Jeep Wrangler. We took long trips in the RV and drove the jeep many places normal people never try to go.
Oh! Yes! Judy and I also hand-built most of a small log cabin with a stunning view on six acres in the mountains Southwest of Denver. That cabin is still a work in progress. What did I accomplish during this period of my life? I'm not sure. So far, I've had 25 plus years to play and do things we wanted to do. I've had the time to think about my life, the people who affected me – there were many -- and the people I may have touched.
I have written about many subjects that people seem to enjoy reading. I have recorded images that show my world during my time on earth. I got to do things that were new and exciting. In the opinion of some people, I put a few small scratches on the granite cliff of life. But probably the winds of time will quickly erode those scratches. That's life.
I really have few regrets and a lot I'm grateful for. I got the gift of marrying Judy. She was an important part of all of the above. I've three good children and lots of grandchildren. That's legacy.
I give sincere thanks to all the wonderful people that made everything possible. +- I do hope there are a few stories worth passing on. It's been a great ride.
-- January 1, 2021