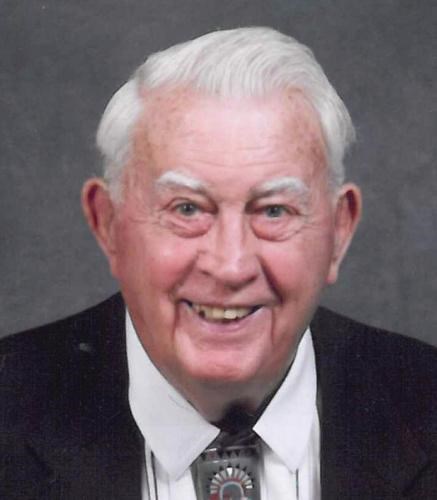 SEDALIA — Dr. Donald Warren Donath (Ed.D.), 90, of Sedalia, MO passed away Friday evening, June 6, 2014, at his home.
He was born November 30, 1923, in Sedalia, MO son of William and Bertha Frances Johnson Donath. On March 22, 1947, in Sedalia, he married Edith Yvonne Morgan, who survives of the home.
Don attended Smith-Cotton High School and withdrew early to join the Army. He was a Staff Sergeant in the 20th Armored Tank Division and was a tank commander. He received a Purple Heart as a result of an injury.
Don was employed by the Missouri Pacific Shops as an apprentice sheet metal worker before beginning college at Central Missouri State Teachers College. He took and passed the GED test without ever completing any coursework.
He went on to earn his Master's and Specialist degrees from Central Missouri State University and his Education Doctorate from Oklahoma State University. He taught at Smith-Cotton, Horace Mann, Washington, Heber Hunt, Whittier, Jefferson, Washington, Hubbard and Mark Twain. He was also an Assistant Professor at Central Missouri State University, supervising physical education majors and taught various types of dance classes.
He directed summer camp at Knob Noster State Park for 13 summers for 4-H members of West-Central Missouri and Kansas City Neighborhood House Association for children.
He also taught dance for the Sedalia and Warrensburg communities. In 1984, he was inducted into the Hall of Fame of the Missouri State Federation of Square-dance Callers and Cuers.
He was a member of the Smith-Cotton Distinguished Alumni.
Don was a member of Epworth United Methodist Church, the Masonic Lodge, American Legion Post 642, National Education Association, Missouri State Teachers Association, Missouri State Retired Teachers Association, American National Association of Physical Education and Recreation Dance Educators, Kiwanis Club of Warrensburg, Veterans of Foreign Wars, Disabled American Veterans, Sedalia School District Foundation, National Association of Callberlab and was past patron of Order of the Eastern Star.
In addition to his wife of 67 years, survivors include a brother, Frank W. Donath, of Gardner, KS; and nieces and nephews: Dr. Larry Mosby, James Cline, Margaret A. Trout, Sharon Nelson, Diane Penland, Patricia Morgan, Michelle Donath, Carol Perrin, Linda Perrin, David Moore, Gary Moore and Judy Moore.
He was preceded in death by his parents; siblings: Hazel Cllne, Anna Mosby, William Donath Jr., Kenneth Donath, Horace Donath, Betty Seigfried, Mary Frances Donath and Shipley Moore; and a nephew, Phil Donath.
Funeral services will be at 2:00 p.m. Wednesday at Heckart Funeral Home, with the Rev. Shelby Seelinger and the Rev. Wayne Colflesh officiating.
Casket bearers will be David Moore, Gary Moore, Melvin Vogler, Bob Upton, Mike Upton, Jim Cline, Marlyn Kern, Virgil Baker and John Anthony.
Burial will be in Crown Hill Cemetery, with full military honors by VFW Post 2591.
The family will receive friends from 12:30 p.m. until service time Wednesday at Heckart Funeral Home.
Memorial contributions are suggested to Epworth United Methodist Church.