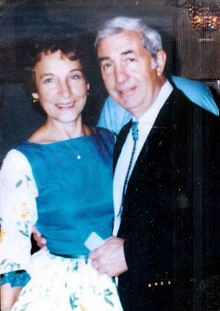 Al, along with his brother Bob, formed a square dance band in 1933 known as The King Street Pioneers. Al had played trumpet but in 1935, at the age of fifteen, Al became the band's caller using a megaphone to project his voice.
In the late 1940s square dance music became available on 78RPM records. Al has recorded traditional tunes and figures on the Kismet and Folk Dance House labels as well as on his own label, Alamar. He has recorded modern choreography on most of the major record labels including Windsor, MacGregor, Red Boot and TNT.
Al had his own square dance hall, The Country Barn, for many years in Stepney, Connecti­cut. After attending the Lloyd Shaw Institute in Colorado and Herb Greggerson's School in New Mexico, Al started programs featuring this new style of "Western" Square and Round Dancing at the barn.
To help callers make the transition to "western style" he conducted the first of his callers' schools at The Country Barn. In 1953 he and Earl Johnston started a callers' school with other caller leadership.
Al was one of the founders of the Connecticut Callers Association. He was also one of the founders of the New England Caller Magazine.
Al was selected as a member of the Sets In Order Hall of Fame. He is a charter member of CALLERLAB, has served on the Board of Governors and is an accredited CALLERLAB Caller Coach.
In 1975, Al received Callerlab's prestigious Milestone Award. In 1993, Al was inducted into the Square Dance Foundation of New England's Hall of Fame. In 2003, Al was awarded the New England Square & Round Dance Yankee Clipper Award.
Obituary: Alfred Griswold Brundage, 96, a nationally known square dance caller of Miami and formerly of Port St. Lucie, Fla, and Connecticut, passed away Aug. 30, 2016 in Miami of natural causes. Brundage, the partner of Norma Peak of Miami since 1997, was predeceased by Beatrice Miles Brundage, his wife of 31 years, and his grandson, Frederick Griswold Schalich. He is survived by two children, Barry Wolcott Brundage of London, and Mary Lou Brundage Schalich of Monroe, Conn.: three stepchildren , William F. Miles of Annapolis, Md., Barbara Brooks of Rockport, Maine, and Patricia Silvia of Milford, Conn.; a brother, Robert M. Brundage of Albuquerque, N.M.; eight grandchildren and four great-grandchildren. Born Nov. 4 1919 in Hartford, Conn., Brundage was the son of the late Harold A. and Mable Gene Griswold Brundage. He grew up in Danbury, Conn., and graduated from Danbury High School and the University of Maine, where he studied agriculture. However, it was Brundage's boyhood fascination with square dancing, discovered peeking into the windows at Danbury's now-defunct Hawthorne's Tavern, which would direct his career path. Brundage, his mother, brother and several neighbors formed the 4H Club's first-ever music club, the King Street Pioneers, that helped introduce square dance music to the region. Brundage initially played trumpet for the band before filling in for the group's outgoing square dance caller and discovering his life's passion. As square dancing grew in popularity, Brundage and the King Street Pioneers went from passing the hat after dances in a former chicken coop to becoming a sought-after attraction for local community groups and churches. In the 1930's, Brundage began teaching square dancing at state 4H conferences in Stores College, Conn., now the University of Connecticut. He opened his first dance barn in 1948 in Stepney, Conn., where he taught his first caller school, also one of the first in the Northeastern United States. Brundage received broad recognition for his contributions to square dancing. He was a sought-after attraction among community groups and churches, and a regular featured performer at the Danbury State Fair. He was admitted to the National Square Dance Hall of Fame in 1975 and in 1993, to the New England Square Dancing Hall of Fame. In addition, the Square Dance Foundation of New England presented him its highest award for distinguished service, the Yankee Clipper Award, in 2003. In addition to calling square dances and teaching callers in Connecticut, and after 1978, in Florida, Brundage established a strong dance tourism program. Over the course of 50 years, he and his late wife led thousands of dancers to sightseeing and dance exchanges in 35 countries. Among Brundage's career highlights were the opportunities to call square dances on the Great Wall of China, at the Taj Mahal in India, and on the grounds of the Parthenon in Greece, the Pyramids of Egypt and at Nairobi Park in Kenya. As he shared his love of square dancing and travel, Brundage developed deep, lasting friendships around the world. He lived his life based on a creed he called the "3 C's", striving never to complain, criticize or condemn. Funeral services will be private. In lieu of flowers, the family requests that donations in Al's memory be made to the Square Dance Foundation of New England, c/o Sheila Moody, 72 Beachwood Terrace, Wells, ME. 04090-4003.