Profile in Caller and Cuer Database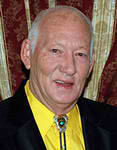 Johnny began calling in 1970 and in 1979 went fulltime as a caller. He has called in 47 of the 50 states including the Alaska State convention in Fairbanks. He has been featured on many large weekend festivals such as the Delaware Valley Festival in Philadelphia and the Baltimore festival where the attendance exceeded 200 squares. In 1981, Johnny was instrumental in forming a callers quartet called "The Red Boot Boys." The boys were together for 23 years doing more than 150 dance/concerts per year. One of their more memorable weekends was the Greater Atlanta Extravaganza in the mid 80's where more than 1600 dancers were in attendance and they brought in The Red Boot Band for the Saturday night concert. Johnny recorded for Red Boot Records with many hits to his credit and recorded 14 albums with the "Boys." Johnny & his wife Penny reside in Dacula, GA.
---
Obituary – Johnny D. Jones, 73, of Alpharetta, GA, went home to be with the Lord Wednesday, September 7, 2016 at Gwinnett Medical Center suddenly. He was born in Kingsport, was a former resident of Scott County, VA and had lived in Tennessee most of his life. He was of the Methodist faith. Mr. Jones graduated from Gate City High School in 1961. He proudly served in the United States Army from 1961-1967. He worked at Eastman Kodak for 17 years, was a nationally known Square Dance Caller for 46 years and was currently co-manager, with his wife, Penny, of Extra Space Storage in Alpharetta, GA. Mr. Jones was a former member of the Four Part Harmony Quartet, the Red Boot Boys for 23 years. He enjoyed Square Dance Calling and singing. Mr. Jones was a loving husband, father, grandfather, son and uncle. He was preceded in death by his parents Rev. Carl V. and Clara Wright Jones and a sister, Charlotte J. Moore. Surviving are his loving wife of 16 years, Penny L. Jones; daughter, Sabrina J. Mowen and husband, Kelly; grandsons, Zackary Douglas Mowen and Nickalas Lane Mowen; mother of his child, Libby Wright; step mother, Mable V. Jones; step sister, Sybil Trent; step brother, Doug Vaughn; a niece and a nephew. The family will receive friends Friday, September 9, 2016 from 4 pm – 9 pm at Tom Wages Funeral Services, 120 Scenic Hwy S., Lawrenceville, GA. The family will also receive friends from 11am -2 pm Monday, September 12, 2016 at Oak Hill Funeral and Cremation Services, 800 Truxton Dr., Kingsport, TN. A Funeral Service will be conducted at 2pm Monday, September 12, 2016 in the J. Wayne Hamilton Memorial Chapel with Rev. Matt Dibler officiating. A Military Graveside Service conducted by The American Legion Hammond Post #3/265 will follow at Oak Hill Memorial Park in the Garden of Everlasting Life. The family would like to extend a special thank you to Johnny's friends and square dance community.