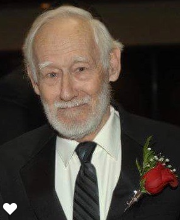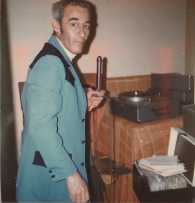 Albert Gould Saunders was born in West Winfield, NY, on June 22, 1930, to Bessie Saunders and Albert Joseph Gould. Al spent his first 31 years in the West Winfield area of New York where he married, Joan Neva Brower in 1950 and raised three children, Chester, Michael and Robyn. In 1961, Al and his family moved to the Federal Way area where his last two children, Wayne and Valerie were born.
After moving to Washington State Al began his square dance career as a caller for local clubs, and enjoyed taking his family to square dances, and teaching them to square dance. Albert and his oldest daughter, Robyn entered dancing competitions and did very well. The family attended Steel Lake Presbyterian Church in Federal Way. In 1971, after 21 years his marriage ended.
In 1977, Al met Karen and they were married on May 6, 1978. They made a great team, with him calling and teaching people to square dance while Karen taught round dancing and cued for the round dancers. Al's career as a square dance caller spanned 40 years. He called for as many as four clubs at a time, including the Camelot Squares, Eastside Twirlers, Kountry Squares, and Square Crows. He traveled during the summer calling for square dance clubs in Montana, South Dakota, and Crescent City, California. Al especially enjoyed calling at Mount Rushmore.
Al wore many hats throughout his lifetime. As a young man he worked at a dairy. When he came to Washington from New York he worked a short time for The Boeing Company, then as a mechanic and bus driver for Puyallup School District. He started square dance calling in the 60's calling for the Raggedy Ann & Andy's teen square dance club and took them to a number of competitions including in Canada.
The highlight of Al's career was becoming a recording artist for Bonanza and Buckskin Records in California, recording eight records including, "You're A Hard Dog", "Buck Skin", "Boogie Bam Hoedown", "Buck Eye Hoedown", "Cuddle Buggin' Baby", "Girls Night Out" and "Million Dollar Baby". Calling with the Rough Riders Band in the Houston Astrodome to 25,000 plus dancers was another highlight of Al's career. He retired from square dance calling with the onset of Alzheimer's in 2007 at the age of 77. He passed away on November 21, 2017 after a long illness.