Profile in Callers and Cuers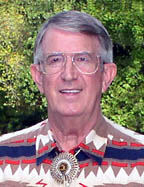 Marie and Bob started square dancing near Madrid, Spain, in 1969. Three years later, Bob began calling in Athens, Greece. Bob has been the club caller for as many as five clubs at one time and currently calls for the Sonshine Squares in Warner Robins, Georgia.
Bob retired from the U.S. Air Force in November 1976. Bob was honored to be selected as "Caller of the Month" for the Sets In Order National Square Dance Magazine in July of 1984.
Bob was on the staff of Thunderbird records for two years and on Mustang Records for 4 years. Bob has made special appearances on Global (GMP) and Big Mac (BM) Records. Marie and Bob started A&S Record label in September, 1993.
---
Robert Bentley Shiver, age 83, passed away in Macon on Sunday, January 9, 2022.
Bob loved square dancing and the square dance community. He would agree that his best friends and best memories came from square dancing. As a well-known and well-respected square dance caller, he was somewhat of a legend in the square dance community, teaching tens of thousands of people to square dance throughout the world and training over 50 square dance callers. He and his wife Marie also ran a successful square dance record business. He simply loved what he did.
As a veteran who served in the United States Air Force for over 21 years, Bob and his family were able to travel the world together serving his country. His overseas tours included Okinawa, Turkey, Italy, Spain, and Greece. Stateside, Bob served in Tennessee, Virginia, Oklahoma, Colorado, Hawaii, and Washington DC.
Those who knew him knew that Bob had a love of people and enjoyed being generous to his friends and family. He had a passion for life; he was spunky, spirited, and a fighter at heart. He loved his family above all else and will be terribly missed.
He was preceded in death by his parents, William Henry and Effie Loraine Shiver.
Left to treasure his memory include his wife of 65 years, Marie Shiver; children, Renee (and Phillip) Britt, Steve (and Kay) Shiver, and Cindy (and Raye) Jones; grandchildren, Chris, Kayce, Felicity, Charissa, Stevie, and Jorie; great-grandchildren: Kolton, Kayden, Evie, Lander, and Rylan.
The family will receive friends from 9:00 a.m. to 10:00 a.m. on Thursday, January 13, 2022 at McCullough Funeral Home. His service will begin immediately following visitation in the chapel at McCullough Funeral Home. Mr. Shiver will be laid to rest at Mt. Zion Baptist Church Cemetery in Camilla, Georgia. For friends and family unable to attend, the service will be streamed live via the McCullough Funeral Home Facebook page at www.facebook.com/mcculloughfuneralhome/live/.
In lieu of flowers, please consider a donation in Bob's name to the Disabled American Veterans at www.dav.org or P.O. Box 14301, Cincinnati, OH 45250-0301.