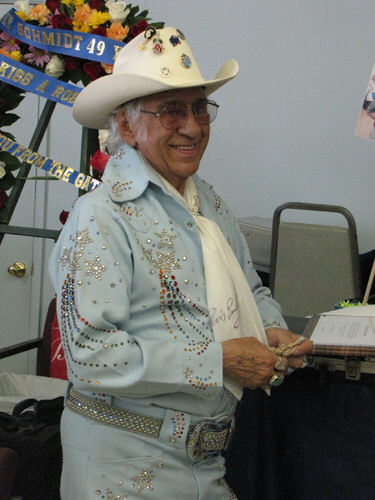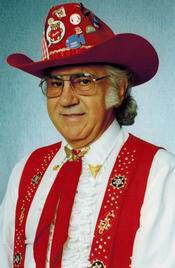 Lee Schmidt was born June 9, 1930 in Drake, Missouri. He served in the Korean conflict, retired a decorated Navy veteran, and was a brilliant electronics technician who designed tracking systems for the Talos Missile at the Naval Weapons Center in Norco.
Lee had been in the music business since he was 14 years old. He was a member of the Academy of Country Music, CallerLab and the Western Swing Association. He performed country music shows and he directed and performed in the country western show at the 1988 National Square Dance Convention. During his musical career, Lee had the opportunity to perform with many top names in the industry, including: Golden West Cowboys, Sharon Leighton, Jim Smith, Ralph Grasso, Mike Ley, Ernest Tubbs, Harold Hensley, Danny Michaels, Betty White Telethon, Bob Hope (TB), K.T. Oslin, Tex Williams, Brantley Kearns, Hank Penny, Bob Wills & the Texas Playboys, Don Lee, Sons of the Pioneers, Al Vescovo
Lee was a well-known ambassador for square dancing, appearing on television commercials and doing performances both on and off screen at venues such as: Academy of Country Music #3621, Knotts Berry Farm, Beverly Hills 90210 (TV), March of Dimes Telethon, Channel 28 series on square dancing (TV), Melody Ranch, Disneyland, North West Passage (TV), Good Morning America (TV). In addition, he did benefit dances for many charities and organizations such as: Associated Square Dancers, March of Dimes (37 years), City of Hope (38 years), Girl Scouts, Crippled Children (20 Years), YMCA, YWCA, White Cane, Toys for Tots, Speak Easy and Cystic Fibrosis.
Lee recorded several country CD's and cassettes and also made country and square dance videotapes. He recorded on the Hi-Hat Square label for over 20 years. He recorded on the Swinging Stars label, was co- owner of Shakedown Square Dance Records and owner of Marilee Records.
Lee will be most remembered for his flamboyant and energetic stage presence. He wore rhinestone suits, huge belt buckles, crazy hats, and even long underwear. Due to the popularity of his recording and performance of The Crawdad Song, throughout his 49-year career Lee was known to dancers all over the world as "The Crawdad Man."
Diagnosed with bone cancer in 2012, Lee retired from calling and passed from this world on April 7, 2013.