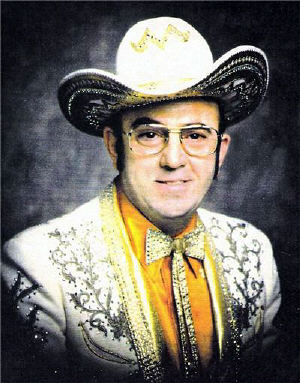 Chief Master Sgt. Calvin "Cal" Golden, USAF retired, born Aug. 28, 1928, in Cedar Glades, died Aug. 23, 2012. The baby of ten (5 boys and 5 girls), Cal was the only one who graduated high school and immediately entered the armed services. An internationally known square dance caller for over 40 years, he started his career while stationed in Colorado Springs. He was Colorado State Champion Caller in 1949 and in November he transferred to March AFB in Riverside, Calif. He helped organize the European Square Dancers and Callers Association in 1955, and in 1968 was elected president of the European Callers Association. For three years he headed the staff of the European Square Dance College in Germany. In 1958, at the request of the State Department, he appeared as the featured square dance caller at the World's Fair in Brussels, Belgium.
He has called in all 50 states and Province of Canada and in 18 foreign countries. He has recorded over 125 records, eight albums and written three square dance books.
It was believed that Cal was the only sergeant who told a 4-star general what to do. ... The general did it and enjoyed it because he was square dancing.
Cal was inducted into the Square Dance Hall of Fame in 1978. Cal retired from square dancing in 1986 due to ill health.
Cal never met a stranger and all will remember his good sense of humor. Wherever he traveled and to all the places he was stationed, Cal took Arkansas and square dancing with him. He was a True Arkansan. The term "Arky style" was coined by Cal Golden. At the time he first used the term "Arky" it was pretty unusual to have part of the square half sashayed and the other half normal. Cal would show the figure and say "that's the way we do it in Arkansas!" Thus, Arky Style was born. After a long career in the Air Force, Cal retired to Hot Springs, Arkansas which was his childhood home. Cal toured as a modern western caller all over the world. He was known as a flamboyant dresser. His rhinestone studded suits would rival any that graced the stage of the Grand Old Opry.
Another VERY famous feature of Cal's calling was his use of more different patter than probably any other caller in the world, such as
"Swing that lady with a hole in her stockin', Knees keep a knockin, petticoat a floppin'"
"Swing with Mary, Swing with Grace, Allemande left with old Prune Face"
"It ain't a goin' to rain, it ain't a goin' to snow, All join hands and away we go"
"Some girls are pretty, and some are not, but boy, you're stuck with the one you've got"
"Promenade and don't be slow, Where we're going nobody knows"
"Hurry up girls, don't be slow, kiss the caller before you go".
There were over 500 of them published in his "Square Dance Patter Book" published in 1951.
Cal was honored with Callerlab's Milestone Award in 1981 and with the Gold Card in 1991.