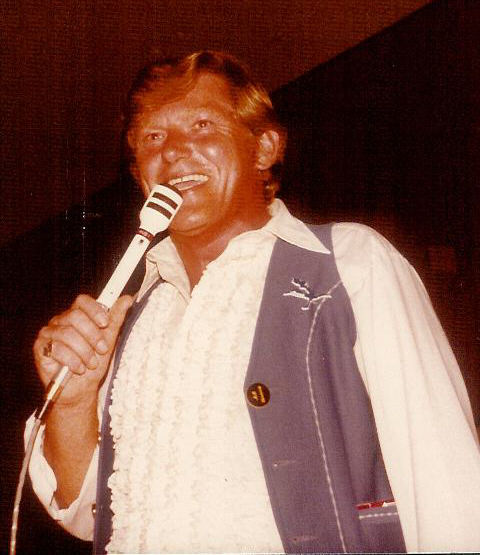 Chris Vear was born June 30, 1941 in Wirksworth, England, UK and began square dancing at age 15 and calling at 18. After completing his education, Chris worked for the Westminster Bank in London, England. He married and had a daughter, Jan Vear, in 1963. He desired and achieved a more exciting life. He followed his brother's footsteps in the "Up to the Center" Square Dance Club of Edgeware, England. This started him on his career as a caller.
Chris left England for Germany in 1966, and upon his arrival, the European Association consisted of 34 clubs. At the time he left, there were 110 clubs. He did not make this all happen but was very influential in the growth that took place.
Chris was an honorary member of three European clubs and the Non-Commissioned Officers Association U.S.A. He received national recognition for his recording, teaching and founding of the bilingual square and round dance magazine The Chatter Box. His use of the written word was both captivating and beautifully written—always.
Chris moved to the U.S. in 1976, where he was featured as a caller for the State Festivals' Special Dance and conducted caller clinics in 42 states including Alaska.
Chris and wife Rita married in 1981 and would travel up to 100,000 miles every year, calling festivals and dances, many of which were annual events. They hosted five square dance cruises that averaged 20 squares, the largest being 33 squares.
Chris was a member of the Overseas Square Dancer Association and CALLERLAB and has recorded for the Sets in Order premium albums, Tex Cap and Blue Star labels. Whenever he returned to England or Germany, he was always regarded as quite the legend in the square dance community.
The last eight years, Chris worked for the Fountain of Youth Spa and Resort in California, wearing many hats. His work involved being the Activity Coordinator, square, round and line dance instructor and also produced a monthly news and calendar of events for Spa residents.
The unthinkable happened March 28, 1997; a massive cardiac failure. He left us far too soon. He brought such joy and laughter into our lives and to square dancers around the world. He strove to make the activity FUN! "We need more good club members than good dancers," he was quoted as saying. I'm sure you also heard him say, "Squeeze your corner." That's like a yellow rock but just a little more gentle. Besides, how can you get mad at your corners' mistakes if you just squeeze them!
The Last Farewell by Roger Whittaker was his most requested singing call. We will never forget his masterful way of bringing us back home after his "Progressive Squares." Many tried, but none made it so much fun.
Our time with him was so short, mere words cannot express our great loss, nor the profound effect it has had on everyone who loved him. God broke our hearts to prove to us he only takes the best.
Keep it FUN
(written by Rita Vear, Niland, California and published in American Square Dance Magazine, Vol. 52 No. 7, Aug. 1997)
Other memories:
Chris Vear was arguably one of the greatest square dance callers in the world. Before relocating to the Palm Desert, CA area, he called in Wiesbaden, Germany for many years for the Kuntry Kuzins. At it's height, with Chris calling, the Kuntry Kuzins had over 200 members for many years. As the story goes, Palm Desert Greens square dance club was ready to fold when they hired Chris to call for them in 1985.
The Fountain Of Youth Squares in Niland, CA were fortunate to obtain Chris Vear as their resident caller when he and his wife Rita moved to the Fountain Of Youth Spa RV resort from Austin, TX in 1988. The club experienced tremendous growth under Chris.