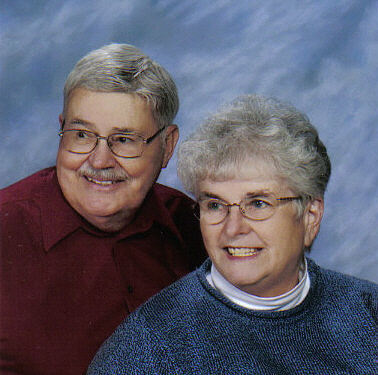 Stan Burdick was born on March 2, 1926 in Westerly, RI to Rev. Paul S. Burdick and Hancy Brooks Burdick. He grew up in several towns in Rhode Island and New York, as his father served churches in the area. Following graduation from Salem College in West Virginia, Stan began a 17 year career with the YMCA that took him from Cranston, RI to Middletown, CT, Hamilton and then Sandusky, OH. This affiliation with the "Y" also led him to the Silver Bay Association where he called square dances for more than 50 years.
Stan and Cathie Burdick authored and published several square dance books and also published the works of many others. They were co-editors of American Square Dance Magazine as well as Mikeside Management, a caller note service. They sold this magazine in 1991. As a team, they helped to inspire the birth of LEGACY, the leadership-communications center of contemporary square dancing. They served many years on its Board of Governors as well as a term as Chairmen. For six years they served as Executive Secretaries of LEGACY on a volunteer basis. In 1979, they received the Silver Spur Award by the Sets in Order American Square Dance Society. They received the Milestone Award from Callerlab in 1992. LEGACY awarded them the Heritage Award in 1993.
Stan called in all 50 states, all ten Canadian provinces, and in 20 countries abroad. He lectured some 56 times at National Square Dance Conventions. Stan held numerous weekend clinics and seminars as well as week-long caller schools. During his career, he taught over 500 callers. Stan was a free lance cartoonist best known for his character, Do-Ci-Do Dolores, who has been making all the wrong moves on the dance floor for many years. He was the director of the Hague Cartoon Museum, Hague, NY, which he established in 1998. The Cartoon Museum moved from Hague to Ticonderoga in 2003 and then was donated to the Toonseum in Pittsburgh in September 2010. In 2003, Stan and Cathie were inducted into the New England Hall of Fame.
Stan passed away on April 22, 2016.