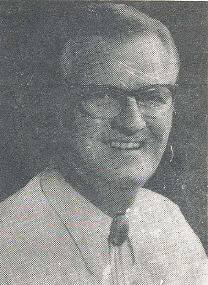 Robert David (Bob) Bennett, 77 of Valdosta, GA died on Wednesday, December 22, 2004 at his residence. Born on July 10, 1927 in Sylvania, GA, he was the son of the late Robert H. (Bud) and Leona Crews Bennett. He was reborn in Christ by baptism in 1937. He had been an active member of the First Presbyterian Church of Valdosta since 1963 where he was a Sunday School teacher and a member of the Live Embers. He was a Yeoman First Class in the United States Navy from 1945 until 1949. He had been a member of the American Legion since 1949 and retired from the Civil Service in 1989 with 44 years service and was a member of the National Association of Retired Federal Employees. He also served for 10 years as a Senior Citizen (Bag Boy) for Winn-Dixie. Mr. Bennett was a founding member and officer of the Dixie Federation Callers Association, of the Georgia Callers Association and a member of the National CallerLab. He was a member of the Florida Callers Association, founding member and officer of the Georgia State Square Dance Association and was also a founding member of the Kat Kickers, the Swingin' Squares, the Belles and Beaux Square Dance Clubs, and the Thunderbird Cloggers. He was a square dance caller for over 50 years and was a recording artist for Longhorn Records and Thunderbird Records and had called all over the world.
As told to me from his granddaughter, Casey Glass:
Called Dances all over the state of Georgia, the rest of the US, in St. Petersburg Russia and on the White House Lawn when Jimmy Carter was president (My momma actually got to dance with Mr. Carter).
Ran the Bells and Beaux Square Dance Club with the assistance of my Grandmother who ran the Thunderbird Cloggers.
Taught his children and grand children to dance.
Ran the Jekyll Island Jamboree for 20+ years.
Owned and recorded under Thunderbird Records.
Ran a program for High School students attending a summer college program to learn to Square Dance.
Attempted to teach me how to play guitar and sang me "Load the Wagon" anytime I asked.