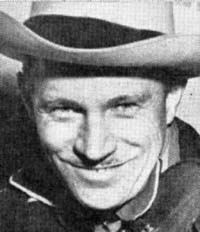 Born Morris Wayne on Aug 7, 1915, in Carmi, IL, "Sleepy" Marlin took up the fiddle at age 12 and won his first fiddlers' contest at age 18. He was a founding member of the Drifting Pioneers along with country Music legend Merle Travis in the 1930s. He entered radio broadcasting in 1936 at WGBF in Evansville. In 1937, he started working at WLW radio in Cincinnati. During WW II, he was a flight instructor at Wright Patterson Air Force Base in Ohio. He was an international champion fiddler, winning 17 championships in the U.S. and Canada during his 52-year career. He performed on WHAS radio and the TV show "Hayloft Hoedown" from 1950-1962. He also appeared on national network television shows including, "The Arthur Godfrey Show", "Renfro Valley Barndance", "Your Town with Faye Emerson", "The Dave Garroway Show", "WLS National Barndance", and Garry Moore's "To Tell the Truth" show. He continued performing with his six sons and daughter until he retired in 1988. He died Jan. 20, 2011 in Jeffersonville, IN at 95.
---
I grew up in Shelburne, Ontario Canada. Shelburne became famous for its annual Old Time Fiddler's Contest.
I recall that Sleepy entered and won the contest a few times. I also seem to recall that he used to drive there every year in a Cadillac car. Ours was a small town, and there were no Cadillacs in the village at all.
I was a car-crazy kid back then, and I loved to look at Cadillacs (I still love older Cadillacs, and I'm now 74).
I always thought that it was so cool when Sleepy came to our town and would stay at the Beuna Vista Motor Lodge in the village. It just seemed to me then that it was truly contest time when such talent as Sleepy arrived.
Correct me if I'm wrong, but I think one of his most popular tunes was Listen To The Mockingbird. I was quite amazed to see that he lived to be 95.
I'm not sure if this is the kind of thing that you are looking for, but it brings back memories for me. As I said, I was just a kid then and was more attuned to that new music called, Rock and Roll. But because I was a resident of Shelburne, one could simply not help but become immersed in fiddle music, no matter what.
The Fiddler's Contest ran for 65 years and it still exists but in a very reduced format. It is simply not what it used to be. The excitement that it generated was almost indescribable. People like Sleepy Marlin were responsible for this in a very big way.
Yours, Very Truly,
John Morden,
Caledon, Ontario Canada