Profile in Callers and Cuers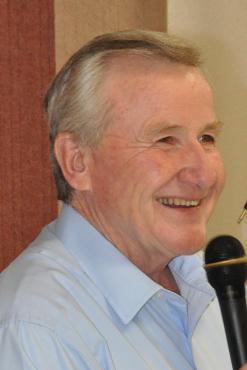 Kip Garvey began his calling career in 1960 calling for a group of teenagers at the Lawrence YWCA in Lawrence, Massachusetts. By 1963 Kip was calling 4 nights a week at adult and teen clubs, saving the weekends for traveling dates throughout New England and the eastern seaboard. In 1970 he joined the recording staff of J-Bar-K Records where he recorded several hit tunes including "When My Baby Smiles At Me." He joined the staff of Thunderbird Records in 1974, where he recorded his biggest hit, "Sheik of Chicago." In 1977 he joined the staff of Rhythm Records. In 1988 Kip began producing square dance music recording on his own label, Eureka Records. Later he recorded on Hi Hat Records.
Graduating from college in 1968 with a major in business management and a minor in economics, Kip began teaching high school in western Massachusetts. He taught school until 1973, when he entered the insurance/securities/real estate sales business. In 1979 Kip moved from Massachusetts to Fremont, California where he now resides with his wife, Pat.
Along with a popular and infectious calling style, Kip is noted for his innovative choreography. He has been presented with awards for his organizational skills. In 1972, before CALLERLAB had established an agreed-upon list of advanced basics, Kip began an organization known as Partners in Progress. With over 30 callers involved around the country, this organization established a standard for the teaching of advanced dancing in caller-operated clubs and workshops. Kip organized many great and enduring square dance special events in his area, such as Winter Festival, Solvang Special, Napa Grape Festival, Los Banos Blast, Mid-Cal Classic, and the Caller Showcase Program.
A member of CALLERLAB since 1977, Kip was Vice Chairman as well as Chairman of CALLERLAB, has served on various committees, has chaired the Advanced Dancing committee, has served on the Board of Governors and the Executive Committee, and chaired the Program Policy Committee. In addition, Kip was one of the first CALLERLAB Accredited Caller Coaches and conducted caller schools and clinics.
Recognized nationwide for his ability to please crowds at any level with his infectious style of calling and pleasing personality, Kip has called in 42 states including Hawaii and Alaska, Canada, and abroad in the Caribbean, Bermuda, the Bahamas, Mexico, Japan, China, and Europe. He considers a caller's main responsibility one of providing an opportunity for people to enjoy the best of each other in an atmosphere of fun and good fellowship.