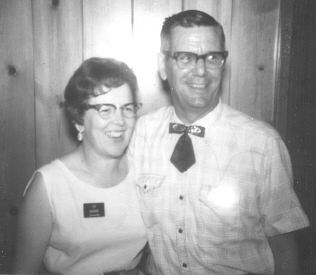 Raymond A. Quade, 86, a longtime Janesville, WI resident, died Tuesday, July 20, 2004, at Mercy Hospital. He was born on Dec. 27, 1917, on the family farm near Footville, WI, son of the late Herman and Elsie (Priem) Quade. His mother died when he was three years old. Raymond attended Janesville schools. He married the former Evelyn L. Snyder in Dubuque, IA, on Sept. 9, 1940; she died on Nov. 24, 1969. He later married the former Evalyn C. Geller on May 28, 1971; she died on July 2, 2001. He was a member of St. Patrick's Catholic Church for many years, and he retired from the former Amphenol Control in Janesville. Ray was well known for square dance calling and his musical ability. In the late 1950s, even though he could not read music, he had his own bands, "Mello Tunes" and "The Quadrilles", that played in the area. He was truly a self-taught musician, able to play many different instruments. His square dance calling brought him national fame; he appeared on the Phil Donahue Show twice. Even while he was on vacation he taught square dancing in Colorado at the Peaceful Valley dude ranch in Lyons, and after he retired he was the music and activity director at Indian Creek Park in Fort Meyers, FL.
---
The following was written by his son Steve and sent to this editor by his other son, Dale:
To say that Ray Quade was a talented musician would be like saying Paul McCartney has done an OK job of composing and singing music. Ray literally taught himself all instruments, beginning in his very early youth. Having been endowed with the ability to play any instrument and any composition, as well as singing it, just by having listened to it was, indeed, Ray's unique gift. He was as comfortable on a keyboard as he was with any stringed instrument or electronics. He began playing music publicly at the age of 13. It was the dawn of the Great Depression and everyone did what they could to make a dime (literally). He and a friend began playing for patrons on Main Street in Janesville, Wisconsin, and, when he realized people would give them money, he was hooked. Playing and putting together performances were a very full, part-time occupation all of his life.
After decades of playing and singing and recording music, Ray and his wife of then 15 years agreed that working, raising a family and constantly traveling around and playing band engagements until late at night was taking a toll. They decided to take a break from public performances and took up square dancing as a sort of substitute social life in 1955. Interestingly enough, neither of them probably understood that, two years later Ray would encounter a familiar caller while on vacation at Lake Wisconsin. The die was cast that day and they were on their way to establishing a square dance calling dynasty in southern Wisconsin and northern Illinois. Very quickly, Ray began to be the caller of choice for the Janesville Swingin' Squares and other clubs in the region - Beloit, WI, Whitewater, WI, Harvard, IL and Pecatonica, IL, to name a few. Ray's unique talents allowed him to be incredibly versatile and to greatly expand the round dancing part of any club's interests. Not only did he learn and teach hundreds of dances to these clubs, but he also performed singing calls with his own accompaniment - literally, half of the time.
A few years into this "part-time" gig, Ray and Ev were asked to come to Colorado in the summers to be part of the staff at a resort complex called Peaceful Valley. It was a haven for square and round dancers from all over the country and Ray's brand of entertainment and learning fun brought them back year after year. After Ev's unexpected death in 1969, Ray did go back - two years later, with his second wife, Evalyn. They continued this until 1974 - enough years to provide "Mile High" and "Snow Bunny" badges to hundreds of Peaceful Valley patrons.
Ray and Evalyn began spending winters in Ft. Meyers Beach, Florida in 1977, where he was hired as a Recreation Director for a mobile home complex. It was a perfect answer for Ray's need to perform because square and round dancing were exactly what people wanted. They spent their winters in Ft. Meyers Beach and provided half-year entertainment there until 1984, the same year that Ray retired from square dance calling. He did, however, still "fill in" when needed in Wisconsin. During this time, in 1980, Ray was also invited to provide a live band and played and appeared with square dancers from the area on the Phil Donahue Show.
After Ray's second wife, Evalyn, passed away in 2001, he continued to play music but did not square dance call again. He passed away in 2004, at the age of 87.
In 2006, Raymond A Quade was officially inducted into the Square Dance Association of Wisconsin's "Square Dance Caller Hall of Fame" - an honor bestowed on only 53 callers in that state.