Profile in Callers and Cuers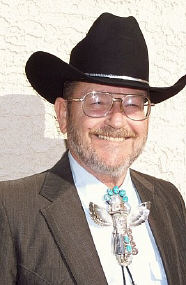 I have been dancing, calling and teaching square dancing for over 40 years, and have been a Full Member of CALLERLAB since 1985. I teach and call primarily at the Mainstream and Plus levels.
My wife Donna and I started dancing in Southern California in 1977, and I have been calling since I got bit by the calling 'bug' in 1978. Besides calling and teaching for various clubs throughout Southern California, I've called for numerous clubs in Nevada, Utah, Iowa, and Arizona. I have also been a featured caller at many square dance festivals, have called at state and national conventions, and have programmed several festivals and two state conventions (CA).
After we retired from our 'day jobs', we were finally able to move to (our dream retirement location) Golden Valley, Arizona in late 2005.
Donna and I have hosted two square dance cruises on Carnival Cruise Lines (to the Caribbean and Mexico), and completed a 15-day Circle Hawaii square dance cruise on Holland America Cruise Lines in 2010.
Since mid-2006 I have been calling and teaching for the Kingman Kut-Ups Square Dance Club in Kingman, AZ. The club dances at the Plus & Mainstream levels on the 2nd & 4th Saturdays at the Senior Nutrition Center in Kingman (see link above for address). Classes are held on Thursday evenings (workshop 6-7pm, class 7-8:30 pm MST) at St John's United Methodist Church on Kino in Kingman. The Club loves to have visitors, and they do try to return all visits when at least one square attends!
Since September 25, 2013 I also call and teach for a new club – the Tri-State River Squares – in Bullhead City, AZ. The classes are on Tuesday nights at the Community Lutheran Church, 2275 Ricca Rd, Bullhead City from 6:30 pm to 8:30 pm (MST), and Club dances are usually held on the third Saturdays from October thru April at Desert Shores Baptist Church, 2625 Landon Dr, Bullhead City from 3:00 pm to 5:00 pm.
Mike passed away suddenly in a Las Vegas hospital on 12/31/2020.