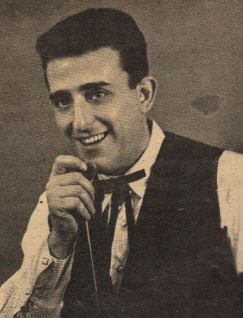 Lou Taddia was an active square dance caller for over half of his life. It all began in 1961 when Lou's wife Velia took him to a "square dance fun night" at the Marconi Club in Springfield, Ma. After enjoying the evening dancing with friends, Lou agreed to take square dancing lessons with his wife. After the successful completion of 21 lessons, Lou and Velia received their square dancing diplomas.
It was not long after that Lou got bit by the calling bug. For fun, Lou self-taught himself Bobby Darin's and later Frank Sinatra's: "Mack the Knife". One evening one of the callers asked him if he would give the song a shot. It was that night that Lou's passion for calling began him on a journey that spanned over 30 years.
It was in the basement cellar of his residence in Springfield, MA that Lou began practicing his calling. He gathered a group of teenage students from Technical High School, who later came by the title of "Dudes and Duds," to act as his live audience. It did not take long for Lou's talent to take him to soaring levels of success, earning him the name "The Voice."
Lou belonged to and taught countless square dance clubs over the year such as; Vagabonds, Circle 8, Rainbow Strollers, Lefooters & Ludlow Square Dance Clubs, and the Central Valley Squares. He was six term president and three term secretary of the Springfield Area Callers Association, and was a delegate to the New England Callers Association. He was the resident caller for the former "Western Jamboree" show on Television Channel 40. As caller for the Circle 8 Square Dance Club of East Hartford, Lou donated his talent and time as perennial caller for St. Jude's Annual Benefit Dances. He was a member of the American Society of Composers, Authors, and Publishers, and was an active member of the American Square Dance Society since 1973.
Lou's family strongly shared and supported his love for calling. His wife, Velia, was also a dedicated member of the many clubs to which he belonged. His now adult children were then members of the Greenleaf Squares, a youth square dance club who performed demonstrations of square dancing for several groups and organizations. Lou continued to pass down his love of square dancing to his grandchildren as he taught line dancing at Bowel's Elementary School in Springfield, Ma where they attended school.
Sadly, Lou passed away in 1993. He was honored by countless organizations after his passing and to this day is still remembered as "Lou Taddia, The Voice." He had a beautiful voice and a beautiful heart and was such a valuable asset to square dancing world. Without a doubt Lou's family believes that he is looking down on them from above, with a microphone in his hand teaching the angels how to do-si-do!