Profile in Callers and Cuers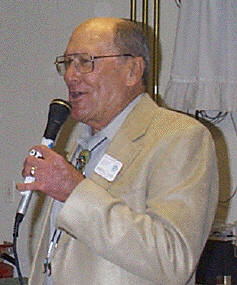 Flip attended school in Wylie Texas, where he was class president and played football and baseball. After school, he joined the Navy during World War II where he served on the USS Piedmont, USS Lander and USS Dixie and played baseball for the them after the war was over.
After serving, he returned to Abilene in 1949 and married Neeca Lee Redus. They started taking square dance lessons in 1951 and he started calling dances in 1952. After vacationing at Kirkwood Lodge in 1959, he was hired in 1962 as entertainment director leading to a 40-year history at the lodge including being a part owner. In 1963 he and Neeca gave birth to their only son John. Flip would work 6 months at the lodge when it was open and spend the other 6 months touring the world calling square dances in the US, Japan and Germany.
He recorded for Blue Star and Chaparral as well as guest recordings for several other companies. He sold over a million square dance records, receiving gold records for "The Auctioneer" and "Every Street's A Boulevard". He has received just about every award there is in square dancing including the prestigious Milestone Award and a Lifetime Achievement Award in 2016. Flip was also a founding member of Callerlab, the governing body of square dancing.
In 2000, Flip moved to Tucson, Arizona to be the resident caller at the Rincon West RV Park where he stayed until 2018. Then he moved back to Osage Beach to live with his son and his wife, John and Shelly.
Flip was an avid golfer and water skier and loved to watch the Dallas Cowboys play. Flip was world famous for his sense of humor and love for people. He is survived by his son, John and daughter in law, Shelly.
Memorial service will be held at 1:00 p.m. on Monday, November 26, 2018 at Elliott-Hamil Funeral Home, 5701 Highway 277 South, Abilene, Texas 79606. There will also be a graveside service at 3:30 p.m. on Monday, November 26, 2018 at Elmwood Memorial Park, 5726 Hwy 277 South, Abilene, Texas.
---
As a "founding member" of CallerLab, Flippo could well be the most consistent traveler in the history of the activity. For several decades, between early fall and mid-spring he has averaged five nights of calling per week throughout North America doing one-nighters and occasionally serving as staff caller for week-end and week-long square dance vacation institutes.
Like the proverbial postman who takes a walk on his day off, Marshall spends the last spring and summer months as staff caller at Kirkwood Lodge, Lake of the Ozarks, Mo.
A dancer, trying to explain how Flippo manages to keep so busy throughout the year explains, "He wears well!"
And, while that may be an understatement, he indeed possesses the ability to please an audience, big or small. This is born out by the fact that a majority of Flip's engagements are repeats, year after year.
Flippo and Neeca, whom he married in 1949, took up square dancing in 1951 and he started calling in 1952. In 1958 the Flippos joined with three other couples in Abilene, Texas, and built the Wagon Wheel Square Dance Hall. In 1961 Marshall was signed on as resident caller at Kirkwood Lodge and in 1973 the Flippos became co-owners of the enterprise.
He has been successful as a recording caller with his rendition of the "Auctioneer" on Blue Star establishing a new high in square dance record sales. Over the years his sales on Blue Star, and more recently, on Chaparral have been most noteworthy.
His calling has taken him to many areas around the globe and his contributions to the world of square dancing have been many. He has served on CallerLab's Board of Governors and in 1970 was inducted into the Square Dance Hall of Fame.
Marshall Flippo passed away on Nov. 4, 2018.
---
SIO's article: The year was 1951 and our hero, recently released from Uncle Sam's Navy, became entranced with square dancing, particularly with calling. A caller-friend in Abilene who had a room filled with records, public address equipment and wire recorder, attracted daily visits from Marshall until the Texas twang eventually adjusted itself to the square dance cadence. And from this sprouted a new and different style and a caller eventually to be known around the world — Marshall Flippo. "Flip" as he is known by his tens of thousands of square dance admirers throughout the United States and Canada, and in many countries overseas where his Blue Star records have been enjoyed for more than a decade, is one of our busiest callers. "He is not just a great caller," said one of his admirers to us recently, "he is one heck of a fine person, as well." This seems to sum up the feeling of so many who have enjoyed his calling over the years. Baseball player — short stop during his navy years for a team in the Pacific and also in semi-pro leagues — Flip is also an accomplished roller skater. With all of this behind him, his life today is centered around his wife, Neeca (see page 28), his young son, John, his six months out of every year at Kirkwood Lodge and his almost six months of travel from one coast to the other. Flip is one busy boy. It is with pleasure that we add his name to The Sets In Order Square Dance Society's Hall of Fame and present the Gene Anthony original oil portrait of Marshall Flippo on our cover. They say that next to square dancing you just can't beat roller skating as a means of meeting some mighty nice friends. The way Neeca Flippo met Marshall several years ago was somewhat less than formal. They collided head-on while playing broom hockey at a local roller rink in their Texas home town. By the time they had recovered and pulled themselves up from the roller rink floor the die was cast, and a beautiful "friendship" was in motion. Neeca tells this story about Marshall which took place when their young son was born. Flip let it be known that he could take this type of national emergency in stride and didn't appear the least bit nervous, that is until he received the phone call from the hospital several hundred miles away. Flip was at Kirkwood at the time. His clothes were at the cleaners. His ready cash amounted to thirty-five cents and according to reports, for the first and perhaps only time in his life, Marshall lost the famous "Flippo Cool." At any rate, Neeca says that with the help of the square dancers at Kirkwood, he somehow made the trip successfully, far more in need of rest and tranquilizers than the new mother. And so as we honor our cover caller again this month we take pride in honoring our cover caller's wife, also.