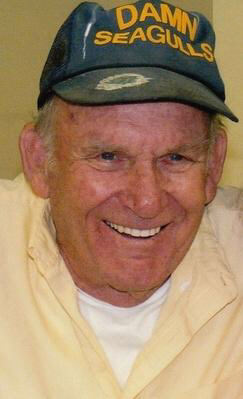 Donald James Monteer, born October 3, 1927; died October 22, 2013
Today is a tribute to our Beloved Music Man, Don Monteer, AKA, "Poppy"! He was a man with many titles as one goes through life, Son, Brother, Husband, Father, Entertainer/Square Dance Caller, Barber, Grandfather, Outdoorsman, Great Grand Father, Great, Great Grand Father and finally the Karaoke King! Come along, Let's Sashay...Shall We Dance?
First, We Circle To The Left...
Don Monteer arrives on the stage of life in 1927 in Weiser Idaho, October 3rd, born at home. The "Baby" of 5 siblings. Evelyn, Jean, Ora and Everett.
Dosado Your Partner...
A pretty little "Redhead" enters the scene in 1946, Noma Gardner. She is also from Weiser, turns out to be the Love of Don's life! They marry in 1947 and have two daughter, Charlene and Colleen.
Now, Let's Circle To The Right...
A person could drive almost anywhere in a 150 mile radius and Don had been there, teaching and calling! Here are some of the Major Events in Don's Square Dancing Career...
*He had a 30 minute time slot on the original KOLO in the 1950's, at that time it was KZ-TV. It consists of teaching Square Dancing with the Haylofters Dance Club!
*Appeared on 5 shows at the Old Riverside Hotel and Casino with his Square Dancers. He opened for Ann Sothern, Rosemary Clooney, Patti Page, Celeste Homes and Son's of the Pioneers!
*He choreographed a "Toe Tapping" dance routine for the chorus line that danced to the tune "Turkey in the Straw" when he was at the Riverside.
*He was the first President of the Northern Nevada Callers Association
*He was Grand Marshal for the Silver State Spring Festival for many years
*Appeared on radio shows and many newspaper articles
* Started many Square Dance Clubs, to name a few...The Merry Mixers, The Hoedowners and The Bowjanglers
Weave the Ring...
Don purchased his own Barber shop in the 1950's as well. He was located by the old "Sportsman's" in Reno on Virginia Street for many years. Then he moved to Prater Way which was called "Don's Strop". He had a unique flare with the "Big" scissors…as he always clipped them together as he hummed or whistled...he would move around gentlemen's lox with a rhythm and tone! He Barbered for over 50 years!
Up to the Middle and Back...
Don Monteer comes into his own when he becomes "Poppy" in 1970. The Grandchildren arrive Kimberly, Shane and Chad! Don and Noma, AKA, "Poppy and Nanny" were just a staple, they where always there! Holidays, events, they both where very supportive in every endeavor... but most of all was Buck's Lake! We camped, fished, water skied, had lots of Rainbow Trout for dinner and marshmallows by the fire!
Double Pass Through...
Poppy was an outdoorsman in all ways! He loved to be outside and fish and hunt! One of his main partners in the Sportsmen's way of life was Pat Nicholls. The two of them for over 30 years, shot trap, hunted and fished...they often loaded all their own shells for shooting and tied their own flies for fly fishing!
Shoot the Star/Shoot the Star Full Around...
Poppy receives his first set of Grand Children...Tristan, Don Ray, Anthony, Celeste, Tre and Raymond! Poppy and children go hand and hand…He loved them all so! The first Great, Great Grand Child arrived in 2012, named Nathen.
Four Ladies Chain...
There was something else coming later in life, that no one could tell...it was the dawning of the "Karaoke King"! Just as an Angel sent from above, came Jim Marwin, a Square Dance caller also, that rolled into Poppy's life again. The two of them both in their 80's decided to hit the Karaoke Scene in Reno and Sparks. They where faithful servants, they went out just about every night. They often would start at 9pm or so and return around 3am. In the day, Jim and Poppy would go to different Square Dance Clubs and Jim would call and Poppy would dance with the girls! Don and Jim were regulars at the Cal Neva and The Eldorado and several Karaoke places around town. A song Don sang regularly was "Pictures" by Kid Rock. We want to say that Jim and Don are both beloved by the fans that follow them and we thank Jim for being a wonderful friend!
*Lets mention a very special lady, Karen Boston. The past 2 years of Don's life, Karen has been coming to his home to cook, clean and most of all, be a great companion to Don. She has been a friend of the family for over 40 years and really is more like a daughter to Don. She is our "Angel" and we so appreciated every minute of her time spent helping him!!
*Also, last but not least, the family wants to say "Thank You" so much to his daughters Charlene and Colleen. Poppy had 3 daughters with Karen Boston surrounding him and making sure he was well looked after from meals to hospital trips and all the stuff in between! Similar to how he grew up, surrounded by 3 sisters!
Promenade Home
Don Monteer passed on October 22nd 2013 at Renown Hospital! Surrounded by love with all his family, listening to the tunes he sang through out the years! The family wants to pour out love and gratitude to the Oncology Department at Renown! We had the best experience a family could have with a passing loved one! Thank you to all the staff from the bottom of our hearts!
*Don was the type of soul that made people feel special, he connected with everyone! His biggest soul talents carried him through to the end of his life. He sang and danced even though he had a very forgetful mind when he was older and he never lost that twinkle, that "thing" that makes you want to smile, he shared it with everyone! Thank you Poppy for all you shared with us! We will miss you so much and always carry with us the "twinkle" that you have passed on!
*Family and Friends are having a Tribute Camping Weekend at Buck's Lake, California this coming Summer 2014! All are welcome that want to come up and camp to remember Don or Poppy as you knew him. The weekend dates are June 27, 28 and 29th. Please come join us for fun, he would love that from what ever part his life story you knew him! He would love any Karaoke fans to come as well! You can contact Kimberly Rose for details at 530 279 1258. The contact address for the family is 1940 4th St. Apt.51 Sparks, Nevada 89431...email.. followyourbliss777@gmail.com.
(Published in Reno Gazette-Journal on Nov. 3, 2013)