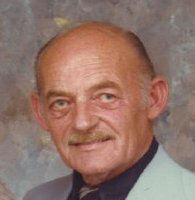 John August "Jack" Petri was born January 13, 1915 in Los Angeles, California. After a stint in the service. He married Ruth Alice Sinclear on February 8, 1936 in Oakland, California. He later worked for the County of Alameda in the Building Department and the City of Union City, California where he was the City Building Official and later Director of Building and Zoning. Jack was also a registered Structural Engineer who designed architectural plans for his clients on the side. He was also a well respected, well known, and extremely popular Square Dance Caller in the Bay Area and made several square dance caller records for square dancing. He also restored old cars as a hobby.
They had five children, Roger (who died in childbirth), Douglas (September 3, 1937), Jacklyn (October 21, 1942), and twins Delores and Deborah (October 16, 1948). They had nine grandchildren and many great-grandchildren.
The family lived in Castro Valley until Jack began working for the City of Union City where department heads were required to live within the city limits and lived there until their death. He purchased a building from a car lot that was relocated due to the freeway and moved it to the Union City property where he used it as his office so he could work on his structural plans and choreography for square dancing. His home club was in Castro Valley, CA (the Valley Swingers) and he called all over the San Francisco Bay Area. Jack called for the Melody Squares in San Jose, CA for over 17 years. He was also famous for his parties in their large recreation room where he would also call square dances for their friends. A meticulous man, you could almost eat off the floor of his garage and looking at shelves, each nut and bolt was in its own container.
On September 10, 1988, Ruth passed away from congestive heart failure in Hayward, California. Jack died July 19, 1993 in Hayward, California and Jacklyn Petri Johnson Fields passed away on December 8, 2007.