Profile in Caller and Cuer Database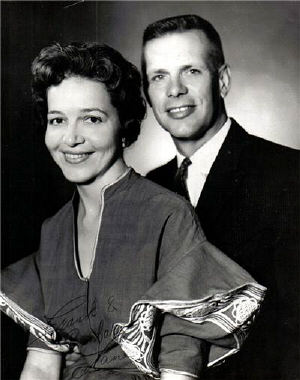 Frank Lane started square dancing as a member of an exhibition group at Central High School, St. Joseph, Missouri in 1939. Four years of journalism college and a war-time stint as a pilot in Italy with the 15th Air Force interrupted the dancing, but by 1948 square dance calling had become Frank's full-time occupation. By 1950, Frank was calling and teaching six and seven nights a week. Weekend calling engagements expanded and soon Frank and his wife, Barbara, were criss-crossing America doing one-nighters, weekends, week-long vacation institutes, and callers clinics. The Lane's tours took them over 60,000 miles each year, running their own institutes at Asilomar in California, and serving as staff members at Kirkwood Lodge and at other sessions around the country.
In 1961, Frank and Barbara were a part of a square dance "think tank" in Glenwood Springs, Colorado and in 1970, Frank became a member of the Square Dance Hall of Fame. As such, he was also a founding member of Callerlab and received the Milestone Award in 1981.
His recordings have set standards of excellence on the several label for which he has called and articles written by Frank have appeared in a number of square dance publications. He conducted caller schools all over North America, Australia and New Zealand. For years Frank and Barbara have called the Dance Ranch in Estes Park, Colorado home, where hundreds of dancers from all parts of the country come to visit and to enjoy being a part of Lanes' world.