Profile in Callers and Cuers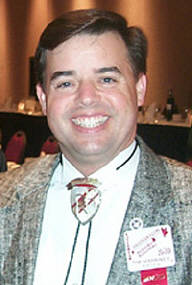 On a dare, Tim started calling in November of 1973. The club he was dancing with conducted an amateur night, and members persuaded him into a slot. After that evening he was hooked; records couldn't be made quick enough for him to learn. He started conducting "Dance Party's" for local organizations, and soon thereafter obtained his first club, another step into the world of square dance calling.
In October of 1987 he decided to devote all his energies toward square dance calling on a full time basis, touring extensively across the United States and into Australia, Belgium, Canada, Denmark, England, Finland, Germany, Japan, Mexico, Norway, and Sweden. He is on the staff of various resorts and currently records for ESP Records. Even with his busy travel schedule Tim still maintains a strong home program at Sun City Hilton Head in Bluffton, SC. He conducts new dancer sessions, various workshops, Mainstream and Plus Program dances establishing Sun City Squares as one of the largest square dance clubs in SC.
There's more to it than just calling dances; a lot of professional training and education is needed to maintain his calling abilities, which range from Basics through Challenge 1.
Tim Marriner is not just a caller, he is an entertainer. Having performed in several jazz choirs in college, he has trained and developed many twists to his singing routines. His enthusiasm is overflowing!
Currently Tim is a member of the Metrolina Callers and Cuers Association, a dedicated group of leaders with a goal of promoting Square, Round, and Line Dancing within the region. Tim is also an Accredited Member of CALLERLAB, the International Association of Square Dance Callers. He serves on the Board of Governors, is part of the Executive Committee, and is a Past Chairman for the organization. Tim is also an Accredited Caller Coach for CALLERLAB working several full curriculum schools across the country.
Tim and his wife Donna reside in Rock Hill, SC where they enjoy their solitude amongst nature in their home on the edge of the woods. When they aren't traveling they are usually in the yard enjoying the outdoor retreat. Moss doesn't grow on rolling stones but it does on brick walk ways through wooded gardens.