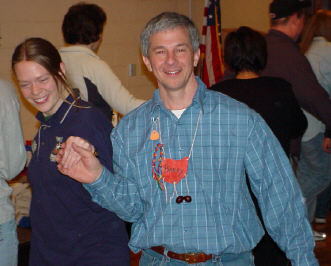 Party Dances
Mixers
Line Dances
Traditional Squares
I have the motto that if the dances take longer to teach than they take to dance they are too difficult. I call hoedown dances (easy ones), line dances, circle mixers, and simple folk dances. Summer church and 4-H camps, church gatherings, parties, barn dances. Usually, just for fun kind of activities. I also lead dance parties for gatherings like national and state meetings for many organizations.
I also Lead TEAMBUILDING Semimars.  I am self employed.  
I lead recreational dancing and "TEAMPLAY" teambuilding 
programs for groups ranging from second grade students 
through Corporate executives.

I have a book available TEAMWORK & TEAMPLAY.  
Send me an email for details.

I will travel as needed.