Profile in Recording Artist Database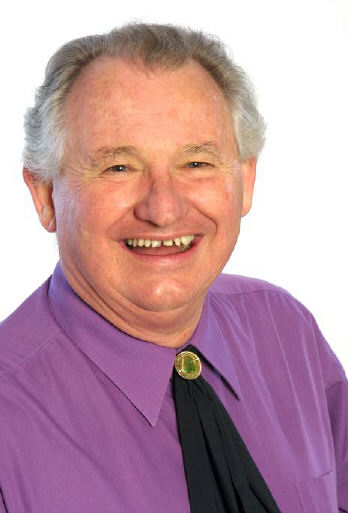 Calling
Beginners
thru
A2
Cueing
Easy
thru
Phase III
Full-time
Traveling
Recording artist
Caller Seminars
One Night Stands
Festival Sound Service
APRA licensed
Started calling: 1961. Home club program in Australia: Wednesday, Thursday, Friday, & Saturday nights each week. Calling Basic, through Mainstream, & Plus to Advanced. Life member of NSW Callers' Association. Have regular annual bookings throughout Australia, & New Zealand. Regularly call festival weekends in Europe, and Great Britain. Specialise in entertaining, interesting choreography, with good body flow. Frequently call "Progressive Squares", "Tandem" sets, and "Six-couple" sets. Have recorded vocals for several record labels, including: Grenn, Top, FTC, Global, Sets In Order, MacGregor, Square Tunes, Pioneer, Big Mac, BMV, RCA, Vista, Hoedowner, J-Bar-L, & Dance Ranch. Although I do call through the Advanced program, I prefer calling the programs up to Plus. "Square Dancing is a wonderful activity that everybody should be given the opportunity to experience."
Brian is an exciting, and dedicated Square Dance Caller, with a
unique talent to make the simplest basics interesting, and fun
to dance.

He started square dancing in Newcastle, Australia during
February 1960, and in November that year, entered an amateur
callers contest which sparked an enthusiasm for square dance
calling which would last forever.
Recordings

by Brian Hotchkies:




Amapola

Singing Call

,

Grenn 12413




Anniversary Song

Singing Call

,

Square Tunes 1004




Auld Lang Syne

Singing Call

,

Square Tunes 1026




B H Patter 1 / B H Patter 2

Patter (two instrumentals)

,

Square Tunes 2050




Back To Donegal

Singing Call

,

Grenn 12424




Ballad Of Cat Ballou

Singing Call

-- with co-artist David Cox,

Rockin' A 1373




Bare Necessities

Singing Call

,

Grenn 12414




Barnacle Bill

Singing Call

,

Black Mountain Valley 38




Barnacle Bill / Fiddle

Singing Call (instrumental) + Patter

,

Black Mountain Valley 3038




Be Happy

Singing Call

,

Grenn 12411




Beer Barrel Polka

Singing Call

,

Pioneer 6030




Beer Barrel Polka

Singing Call

,

Sets In Order 3002




Bells Of Christmas

Patter

,

Square Tunes 2010




Bells On My Heart

Singing Call

,

Pioneer 6001




Blue Tail Fly

Singing Call

,

Top 25349




Bluegrass Breakdown / Ginny / Ginnyville

Patter

,

Pioneer 5022




Boil Them Cabbage / Whiffletree

Patter (two instrumentals)

,

Grenn 12801




Camptown Races

Singing Call

,

Pioneer 6002




Chicken Plucker / Ramble

Singing Call

,

Pioneer 5038




Cocoanuts

Singing Call

,

Pioneer 6024




Cocoanuts

Singing Call

,

Sets In Order 3003




Columbus Stockade Blues

Patter

,

Pioneer 6003




Come On Over

Singing Call

,

Grenn 12431




Comin Round The Mountain

Singing Call

,

Square Tunes 1003




Cunnamulla Fella

Singing Call

,

C Bar C 824




Day Like Today

Singing Call

,

MacGregor 2429




Dear Hearts And Gentle People / Swing High, Swing Low

Singing Call (instrumental) + Patter

,

Dance Ranch 1116




Debut / Linda Sue

Singing Call (instrumental) + Patter

,

B Bar H 10001




Deck The Halls

Singing Call

,

Square Tunes 1013




Diamonds Are A Girl's Best Friend

Singing Call

,

Pioneer 6004




Diggin' Up Bones

Singing Call

,

Pioneer 6005




Do What You Do Do Well

Singing Call

,

MacGregor 2402




Doin' What Comes Naturally

Singing Call

,

Sets In Order 3001




Don't Bring LuLu

Singing Call

,

Pioneer 6021




Don't Think Twice

Singing Call

,

Square Tunes 1019




Double Trouble

Patter

,

MacGregor 2428




Easter Parade

Singing Call

,

Square Tunes 1028




Everywhere You Go

Singing Call

,

MacGregor 2306




Give My Regards To Broadway

Singing Call

,

MacGregor 2420




Good Friends

Singing Call

,

Grenn 12405




Goodbye My Lady Love

Singing Call

,

Grenn 12179




Goodbye My Lady Love

Singing Call

,

Grenn 12408




Goodnight Sweetheart

Singing Call

,

Top 25358




Greatest American Hero

Singing Call

-- with co-artist Mike Davey,

Pioneer 6013




Happy Birthday

Singing Call

,

Square Tunes 1085




Hey Good Lookin'

Singing Call

,

Grenn 12419




Hey Good Lookin'

Singing Call

,

Grenn 12430




I Get The Blues When It Rains

Singing Call

,

Sets In Order 3004




I Like You

Singing Call

,

MacGregor 2305




I Saw Mommy Kissing Santa Claus

Singing Call

,

Big Mac 209




I Want A Hippopotamus For Christmas

Singing Call

,

Pioneer 6020




I'll Be Swinging Home For Christmas

Singing Call

,

Square Tunes 1023




I'll Come Running

Singing Call

,

Grenn 12463




I'll Get Over You

Singing Call

,

Pioneer 6006




I'm Forever Blowing Bubbles

Singing Call

,

Grenn 12402




I'm Gonna Knock On Your Door

Singing Call

,

Square Tunes 1002




I've Got Rhythm

Singing Call

,

Square Tunes 1093




I've Got Rhythm

Singing Call

,

Square Tunes 1012




Ice Cream Sodas & Lollypops

Singing Call

,

Grenn 12421




In The Groove / Up Jumped The Devil

Patter (two instrumentals)

,

Pioneer 5008




Is You Is

Singing Call

,

Grenn 12404




Island In The Sun

Singing Call

,

Grenn 12271




It's A Great Day For The Irish

Singing Call

,

Square Tunes 1041




It's a Sin to Tell a Lie

Singing Call

,

MacGregor 2423




It's Beginning To Look A Lot Like Christmas

Singing Call

,

Square Tunes 225




It's Beginning To Look A Lot Like Christmas

Singing Call

,

Square Tunes 1062




Jingle Bells

Singing Call

,

MacGregor 2416




Jingle Bells

Singing Call

,

Square Tunes 1098




Just Another Polka

Singing Call

,

J-Bar-L 60001




Kwaliga

Singing Call

,

Top 25353




L.O.V.E.

Singing Call

,

Grenn 12407




Lazy, Hazy, Crazy Days

Singing Call

,

Pioneer 136




Let A Smile Be Your Umbrella

Singing Call

,

Sets In Order 3005




Light In The Window

Singing Call

,

MacGregor 2304




Lighting / Rockabout

Singing Call

,

Pioneer 5039




Linda Sue

Singing Call

,

B Bar H 20001




Little Brown Gal

Singing Call

,

Pioneer 6007




Little Girl

Singing Call

,

MacGregor 2401




Lorraine's Fiddle

Singing Call

,

J-Bar-L 60001X




Love You More Than I Can Say

Singing Call

,

Pioneer 137




Marching Through Georgia

Singing Call

,

Pioneer 6008




Mele Kalikimaka

Singing Call

,

Pioneer 6009




Merry Christmas Medley

Singing Call

,

Omar 100




Merry Christmas Medley #2

Singing Call

,

Omar 108




Mississippi Squirrel Revival / Prairie

Singing Call (instrumental) + Patter

,

Dance Ranch 1062




Mononqahela / Molly Ann

Patter (two instrumentals)

,

Grenn 12810




Mountain Dew

Singing Call

,

Square Tunes 1005




Mr. Sandman

Singing Call

,

Square Tunes 1001




Now Is The Hour

Singing Call

,

Hoedowner 117




Oblah-Di, Oblah-Da

Singing Call

,

Grenn 12410




Oh Johnny

Singing Call

,

Grenn 12423




Old Man River

Singing Call

,

Grenn 12403




Old Pine Tree

Singing Call

,

Grenn 12412




Out Behind The Barn / Outback

Singing Call (instrumental) + Patter

,

Dance Ranch 1074




Paradise Tonight

Singing Call

,

Big Mac 207




Patriotic Medley

Singing Call

,

Square Tunes 1014




Play Me A Good Ole Country Song

Singing Call

,

Grenn 12401




Pretty Little Girl From Omagh

Singing Call

,

B Bar H 20006




Put Another Log On The Fire

Singing Call

,

Pioneer 6019




Put Your Arms Around Me

Singing Call

,

Grenn 12476




Queen's Quadrille

Patter

,

MacGregor 2301




Red River Valley

Singing Call

,

Grenn 12464




Red Wing

Singing Call

,

Grenn 12427




Red Wing

Singing Call

,

Top 25347




Ride, Ride, Ride

Singing Call

,

Grenn 12409




Road To Gundagai

Singing Call

,

Grenn 12475




Road To Gundagai

Singing Call

,

Top 25344




Robin's Eye Level

Patter

,

B Bar H 20010




Rocket

Patter

,

MacGregor 2407




Roll Out The Barrel

Singing Call

,

Square Tunes 1029




Rollin' In My Sweet Baby's Arms

Singing Call

-- with co-artist Mike Davey,

Square Tunes 1092




Rolling High / Breaken

Patter (two instrumentals)

,

Grenn 12800




Row Row Row

Singing Call

,

Grenn 12406




Royal Telephone

Singing Call

,

B Bar H 20004




Rubber Dolly

Patter

,

MacGregor 2443




Rubber Dolly / Rocking Dolly

Patter (two instrumentals)

,

Pioneer 5040




Rudolph The Red Nosed Reindeer

Singing Call

,

Grenn 12422




Running Bear

Singing Call

,

Grenn 12428




Santa Claus Is Coming To Town

Singing Call

,

Omar 101




Seattle

Singing Call

,

Top 25357




Singing The Blues

Singing Call

,

Top 25329




Six White Boomers

Singing Call

,

Pioneer 138




Six White Boomers

Singing Call

,

Pioneer 6015




Sleigh Ride

Singing Call

,

Square Tunes 1025




Strawberry Blonde

Singing Call

,

Grenn 12447




Teddy Bear's Picnic / Doodling

Singing Call (instrumental) + Patter

,

B Bar H 20002




The Best Things In Life Are Free

Singing Call

,

MacGregor 2302




The High Road

Singing Call

,

Pioneer 6029




This Land Is Your Land

Singing Call

,

Grenn 12426




Tiger By The Tail

Singing Call

,

MacGregor 2303




Tracy's Hoedown / Brian's Hoedown

Patter (two instrumentals)

,

Square Tunes 2004




Two Timin' Gal

Singing Call

,

Pioneer 6022




Wait Till The Sun Shines Nellie

Singing Call

,

Sets In Order 3000




Walk In

Patter

,

MacGregor 2437




Walking

Patter

,

MacGregor 2454




When Irish Eyes Are Smiling

Singing Call

,

Square Tunes 1027




Whistling Piano Man

Singing Call

,

Grenn 12415




Wild On Saturday Night

Singing Call

-- with co-artist Jon Jones,

Global Music 403




Will O Wisp / Marldon

Patter (two instrumentals)

,

Grenn 12809




Winchester Cathedral

Singing Call

,

Grenn 12416




Winter Wonderland

Singing Call

,

Grenn 12474




Winter Wonderland

Singing Call

,

MacGregor 2408




With A Shillelagh Under My Arm

Singing Call

,

Pioneer 6000




Yankee Doodle Dandy

Singing Call

,

Grenn 12425




Yellow Polka-Dot Bikini

Singing Call

,

FTC 32045




Yellow Rose Of Texas

Singing Call

,

MacGregor 2417




You Were Always On My Mind

Singing Call

,

Big Mac 208




You Were Meant For Me

Singing Call

,

Square Tunes 1006